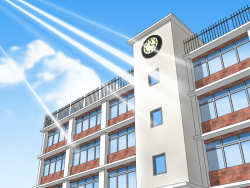 The school bell already rang four minutes ago.
You're late.
_________________________________________________________________________________
Your character is a student at

Togashi High

and more than ready for the summer to start!
Sadly for them, they have an entire month of school drama, relations and homework to bridge first.
A
freeform
AU event where everyone's character is a normal kid in high school. Is your character planning a ball or to ask that one person out? Are your characters a part of the jocks or are they closer to the nerds playing chess during lunch? Anything can happen and you have full freedom to experience the most fun you can have.
The event is divided in
two threads
representing two different locations where everything happens. The first thread being in the school self, during school hours and the second after school in the entirety of Yorkshin.
Your characters have the full freedom to interact with each other in different places in these threads. Four people could be posting interacting in a math class while three other people might be having biology. You might see a group of characters at lunch and decide to join them, it's very freeform and on
you
to make it fun. That's also why the minimum post count is only one paragraph of five lines. Although those who put more effort will more likely get more bonuses.
To participate, fill in this template with each character you're participating with.
Name:
Age and Grade:
Favorite Classes:
Least favorite classes:
Code: Select all

[b]Name:[/b]
[b]Age and Grade:[/b]
[b]Favorite Classes:[/b]
[b]Least favorite classes:[/b]


Three event tokens are rewarded for making a character sheet, and an additional one event token for every two posts made, capping at twenty. The threads will be graded as standard.
---
Please direct your attention to the Togashi High portion of the site, which you can find at the end of the role playable areas. There are two threads, one for the inside of the school, and one for all things outside of it, which you can participate in. Please post your character sheets below.
AND START HAVING SOME FUN!
Togashi High
Yorkshin