Movie Information:

Movie Name: The Row
Movie Rating: R
Movie Premiere: Fall, 2018
Movie Creators/Producers: Shimane, Kazuo & Risky Productions

Synopsis: A movie adaptation of the popular video game series, Saints Row brings the gritty, violent gangland warfare of Stillwater to the Silver Screen. Lives are lost, blood is shed, and the citizens of Stillwater are caught in the crossfire as 4 rival gangs compete for complete control of the city.
3rd Street Saints:


Julius Little - Julius is the charismatic founder and leader of the Third Street Saints. Formally a member and co-founder of The Vice Kings alongside Benjamin King, Little forms The Saints with the goal to clean up Stillwater and wipe out the three opposing Gangs who are raising hell in the city, while making questionable decisions along the way.

Actor:


Playa - The (Mostly) Silent Protagonist. Not much is known about Playa's life before The Saints due to his quiet nature. A resident of Stillwater's gang infested 3rd Street, the protagonist is quickly recruited by Julius and Troy after surviving a small turf war involving the three rival gangs. With his help, the Saints look to clean up 3rd Street and the rest of Stillwater by taking the fight to the Kings, Rollerz, & Carnales.

Actor: Emilio Vialpando


Johnny Gat - One of Julius' Lieutenants and resident person of mass destruction. If there is one thing Johnny is good at, it's racking up a massive body count of rival gang members and law enforcement officers alike. He's in charge of all matters involved with taking out The Vice Kings.

Actor:


Dexter "Dex" Jackson - The Brains behind The Saints, Dex is considered the voice of reason between all of Julius' Lieutenants. A superb tactician, Dex would rather plan out a course of action rather than go in guns blazing like Johnny. He's in charge of helping take down The Carnales.

Actor:


Troy Bradshaw - Julius second in command of The 3rd Street Saints. Always seen with a cigarette in hand, Troy is always seen helping out the other saints (though he's a little TOO curious at times…) with their missions in taking down the other three gangs in stillwater.

Actor:


Lin - A female lieutenant, Car Junkie and self proclaimed "Best Driver to Ever Come Out of Chinatown". Lin is currently undercover in the Rollerz gang to destroy them from the inside, gathering Intel on the gang and their moves for the Saints.

Actress:

Aisha - A celebrity hip-hop recording artist with an exclusive on-and-off relationship with Johnny Gat. She had experienced a meteoric rise that had taken her from the slums of Saint's Row to a promising career in the R&B/hip hop/hip hop soul music industry.

Actress:

The Vice Kings:


Benjamin King - Described as both a Professional and a Badass, Benjamin King is the founder and leader of the Vice Kings, one of three enemy gangs. The Vice Kings have been active in Stilwater since the '70s, where King formed the gang alongside best friend Julius to counter the Carnales' encroachment on their neighborhood of Sunnyvale. After King grew accustomed to power and refused to give it up, Julius retired to Saint's Row while King expanded his criminal empire, attempting to break into more legitimate ventures.

Actor:

Anthony "Big Tony" Green - Anthony Green is Benjamin King's bodyguard and close friend. Tony is Tanya Winters' primary lover, but she also carries on an affair with Warren Williams. Tony is loyal to Benjamin King to a fault, and is the only Vice Kings member that King openly respects.

Actor:

Warren Williams - Warren Williams is a Vice Kings lieutenant under Benjamin King. The former rapper, who performed under the name EZ Money (pronounced "Easy Money"), now manages Kingdom Come Records, one of the Vice Kings' more legitimate business ventures, and has been described as the Vice Kings' "numbers guy". Hot headed and eager to prove himself, Williams often clashes with King on how to handle matters both business and gang related.

Actor:

Tanya Winters - Tanya is a Vice Kings lieutenant, her primary responsibility was managing the Vice King brothel located in Prawn Court. A schemer and manipulator in her own right, Tanya's carrying on an affair with Warren Williams while maintaining a relationship with Tony Green. She's the least favored of King's three lieutenants.

Actress:
Los Carnales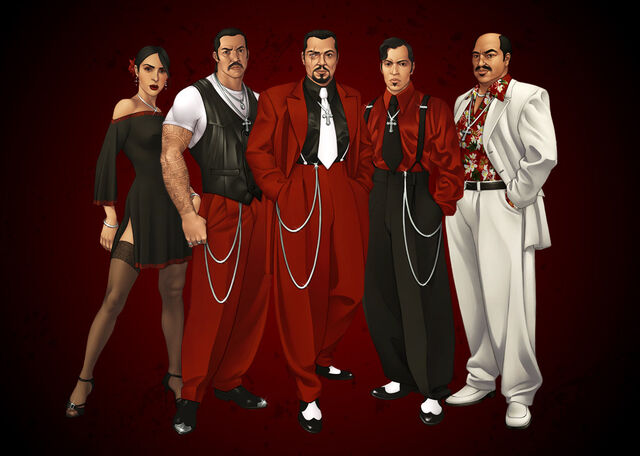 Hector Lopez - Hector Lopez is the leader of Los Carnales, and inherited control of the gang from his father. The colder, calculating and more observant of the Lopez Siblings, he treats any slight against his gang as an act of war. His recognized by the scar going through his right eye.

Actor:


Angelo Lopez - The minority "Leader" of Los Canarles. Hotheaded, rash, and overly aggressive, his Older Brother has to rein him in more often than not to keep him from damaging their image and reputations.

Actor:


Victor Rodriguez - The walking meat tank of an enforcer for Hector, Victor has more than earned his reputation among the other gangs of Stillwater. He's to date survived numerous attempts on his life, to the point where he's walked off point blank gunshots - including 5 Drive By attempts on his life - with frightening ease.

Actor:


Manuel Orejuela - The Connect/Representative for a large Columbian Drug Cartel, here in Stillwater to do business with Los Carnales.

Actor:


Luz Avalos - The materialistic girlfriend of Angelo.

Actress:
Westside Rollerz:


Joseph Pierce - The Co-Leader of The Rollerz alongside his uncle, William Sharpe. While Sharpe is clearly the brains of the operation, Joseph is the brawn and the face of the gang.

Actor:

William Sharpe - An elderly lawyer and businessman who is currently funding the Mayoral Campaign of Alderman Hughes. Cold, calculating, sarcastic and ruthless, he handles all business for The Rollerz from his mansion in the Stillwater Suburbs.

Actor:

Donnie - The mechanic for The Westside Rollerz and best friend to Pierce. Has a bit of a crush on Lin and is oblivious to her nature as an Undercover Member of The Saints.

Actor:
Others




Character: Police Chief Monroe
Actor:
Description: The corrupt Chief of Police in Stillwater. In the back pocket of both Benjamin King and Alderman Richard Hughes.

Character: Mayor Marshall Winslow
Actor:
Description: The Mayor and opponent for Alderman Hughes in the upcoming Mayoral Election. Former resident of Saints Row

Character: Alderman Richard Hughes
Actor:
Description: A corrupt Alderman and opponent of Marshal Winslow in the fierce Mayoral Election Campaign.