Moderator: Arisato
Forum rules
READ THIS FIRST BEFORE STARTING ANY TOPIC HERE! [url=http://w11.zetaboards.com/HGFT/topic/7539346/1/]Icon Rules [/url]
Toradora! Icon Pack
Toradora! Icon Pack
by: Uzsaku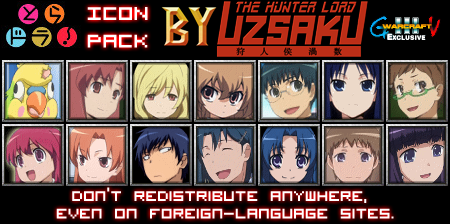 Toradora_Icon_Pack_by_Uzsaku.zip (115.21 KiB)
I AM RETIRED FROM WC3 MODDING, AND HGFT WILL BE A STANDALONE GAME INSTEAD OF A WARCRAFT III MAP.
How to Call Me The Right Way
---
Joined: 1:08 PM - Jan 19, 2012
The icons actually made by want to watch the anime once again, xD
nice icons anyway, might be some of use for anime games.
Status of the Day
:
Time to remove my laziness.
My Map(s):
Streams of War!
Legion HD
Dude why am i so lazy to update my own map anyway.
---