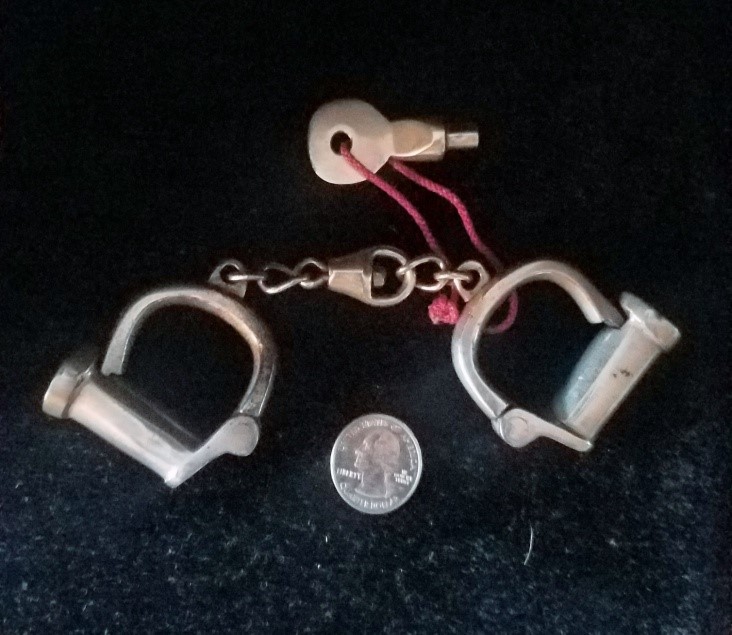 There are good people out there….
It has been three years since Larry Weeks has passed "Houdini's Biggest Fan".
Amongst the many items missing from Larry Weeks apartment was the famed "Bobby Handcuffs" if you weren't aware the Bobby handcuffs were named after Houdini's fox terrier dog Bobby the only Handcuff King Dog. Houdini was said to have had trained Bobby to escape from ropes, handcuffs and even a miniature straight jacket. In 1918 Bobby performed for the Society of American Magicians Annual dinner escaping from a specially made pair of an English model Darby handcuffs (see photo above). According to a Houdini quote "He was a Dog-gone Hit" Those handcuffs today are referred to as the Bobby handcuffs.
The Bobby handcuffs are featured in the 1996 Houdini Documentary "Houdini: People Come to See Him Die" where Larry had trained his fox terrier "Spanky the Wonder Dog" to Escape from the very same pair of handcuffs used by Houdini's dog Bobby.
Larry was very proud to have in his collection these very rare and special handcuffs. Larry had brought the Bobby handcuffs to a few of Sid Radner's "Official Houdini Séances" and to the many interviews he had done.
Larry was distraught when the Bobby Handcuffs one day turned up missing from his apartment.
Larry didn't know who to blame he was beside himself he confronted a magician and a juggler who were his so called friends with no results. At the time Larry didn't really trust them in and out of his apartment but had no choice his health was failing and he needed some help I had been traveling a lot. So I had worked hard fighting with an agency to hire someone to take care of Larry when I was out of town. Who knew this decision I would later come to regret.
After Larry had passed and it became public knowledge that I was to inherit his estate I received a strange call from a blocked phone number the gravel voice on the other end saying that if this was really true and if I was the true owner of these special handcuffs they will be returned to me. It took a very long time for the court to grant Larry's last wishes. I had forgotten all about the anonymous phone call but one day to my surprise in my mailbox was the only stolen thing returned and that was the Bobby handcuffs.
So in this small collecting world of ours there are some decent people. Who know how to do the right thing!
Not knowing who this person is I just wanted to take this opportunity to thank them publicly being that I never had the chance to extend my gratitude!! So Thank You!! And of course Larry Weeks for always being there for me thank you!
Fred Pittella