The Handcuffs of the Year are the McKenzie Mitts. Three pairs were sold.
The Leg Iron of the Year is a early English Side Key Leg Iron.
Congratulations to the winners. And Happy New Year to you all.
This is the eleventh year for the Handcuffs of the Year on the Forum.
Put them all together and you would have a very nice collection.
This year the "Recent Auctions" feature was coverted to a searchable web app.
Check it out if you have not done so.
http://handcuffs.org/auctions/
Joe
__________________________________________________________________________________
2017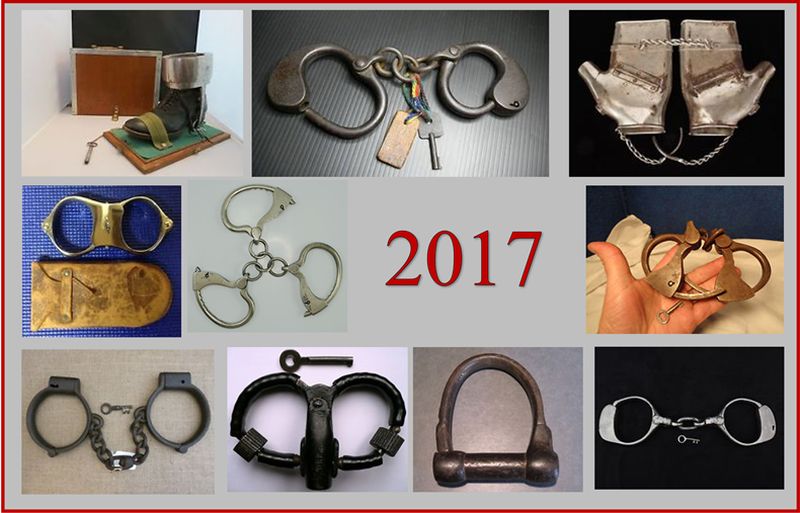 Bean Giant $1950, $860
Elias Rickard Shackle $833.66
Hiatt Bean Handcuffs $800
Horst Stein $1183
English Side Key Leg Iron $1200
Japanese "Tejo" handcuffs $1980
McKenzie Mitts $3200, $3050, $2750
Oregon Boot $2750
Phelps Handcuff $1530
Tower Single Lock Three-Way $1550
__________________________________________________________________________________
2016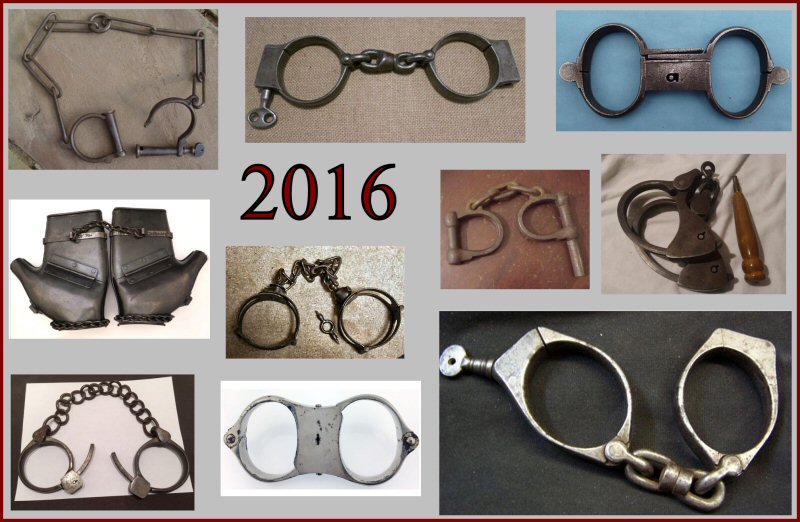 Bean Giant $1200
Elijah Rickard Handcuff $3716
English Bar Cuff $2656
English Leg Irons with long links $1523
Kimball Handcuff $9995
McKenzie Mitts $4500
Palmers Leg Iron $1448
Phelps Handcuff $1200
Rankin Delestatius Handcuffs $1125 and $1136 (two pairs)
Tower Detective Leg Iron $1650
__________________________________________________________________________________
2015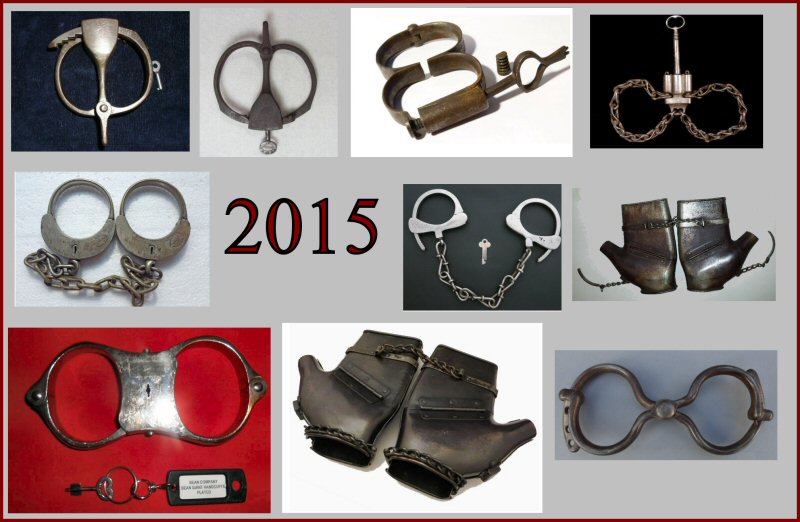 Bean Giant $1350
French Chain Cuff $1500
Hungarian Padlocking Handcuff $2200
Mattatuck Leg Iron $1998
Muhlenfeld Barmen ~$3000
Muhlenfeld 113 ~$2750
McKenzie Mitts $3900
McKenzie Mitts $3060
Romer Leg Irons $1300
Wilson Plug 8 ~$1400
__________________________________________________________________________________
2014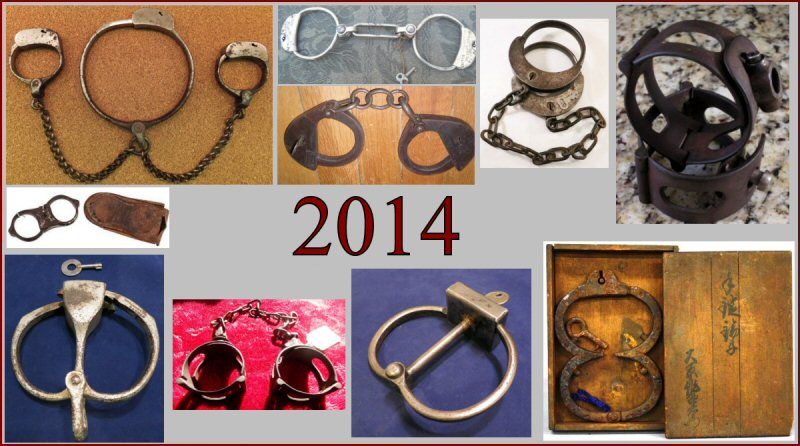 Bean Giant with carrying case $900
Bean Neck Collar $3450
Berliner Flat Top $1000
Japanese Figure 8 Handcuff Buy it Now -originally listed at $2480
Japanese "Luna" handcuff $1295
Muhlenfeld 113 Dortmunder $3015.56
Palmer Leg Iron Buy it Now -originally listed at $2000
Palmer No. 3 Handcuff $1258
Romer Legirons $1300
Walden Handcuffs $985
__________________________________________________________________________________
2013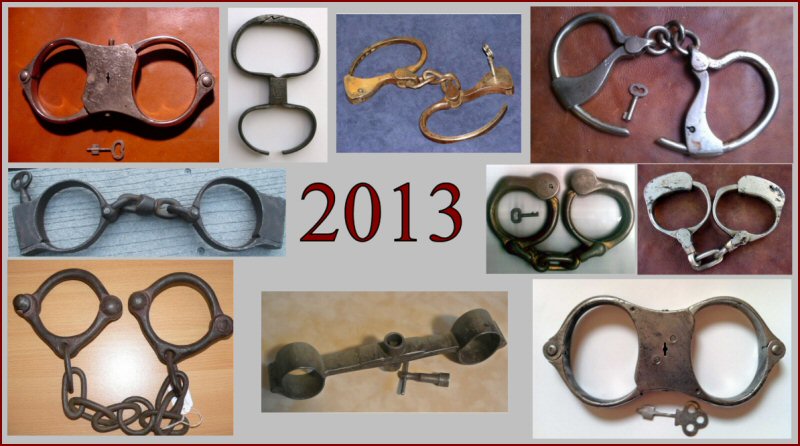 English/Australian leg iron marked for Board of Ordnance ~$2000
Bean Detective Handcuff attributed to Harry Houdini
Bean Giant attributed to Harry Houdini $4300 (upper left in picture)
Bean Giant $1200 (upper right in picture)
Lilly Iron $1250
Phelps Handcuff $1250
Rankin Handcuff $1075
Thewlis and Griffith Nipper $1362.66
Tower Bean attributed to Harry Houdini $1275
Tower Model 1 attributed to Harry Houdini $4450
__________________________________________________________________________________
2012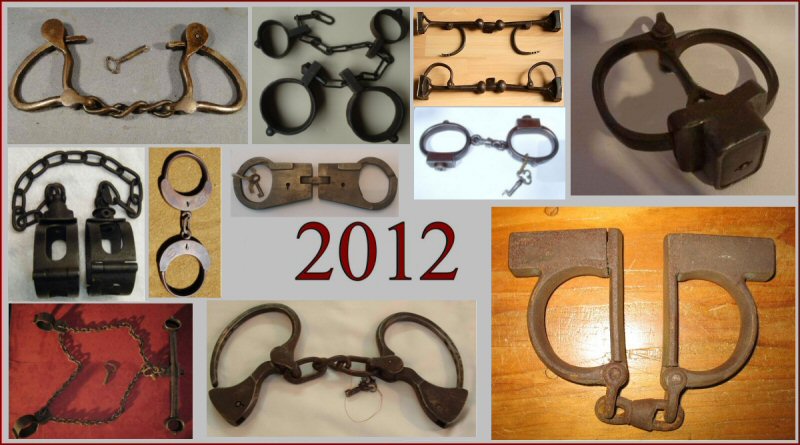 Adams Handcuff (chain version) $2235
Berliner $2525 $1990
Dutch Combination Shackles $1515
European Combinatio n Irons $1450
Guiteau Handcuffs $8877.78
Heavy German Handcuff $1750 $1500 $1080
Palmer Leg Irons $1400 Handcuffs $1280 $957
Phelps $1800
Romer Handcuffs $1391
Schwertfeger Chain Handcuffs $4550 Bar Handcuffs $1890
__________________________________________________________________________________
2011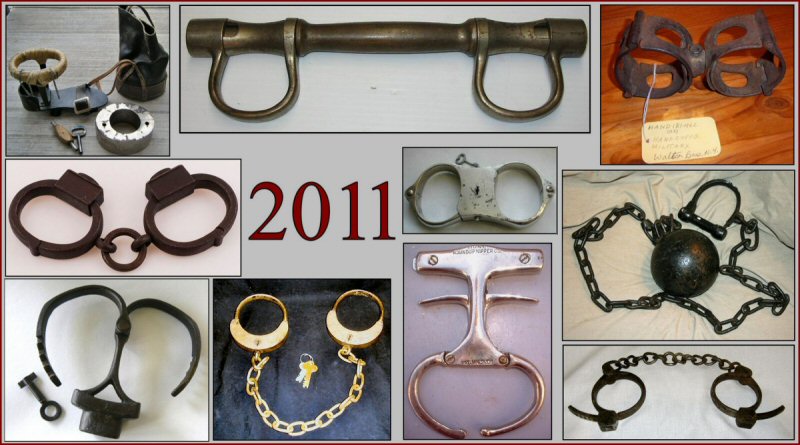 Bean Giant $1236.97
Berliner handcuff $3716
Broom and Wood handcuff $6766
Elijah Rickard ball and chain $1575
Kakola style handcuff 1810 Euros
Oregon Boot $2002
Palmers (Walton) handcuff $1375
Romer leg irons $1737.50
Roundup Nipper Co. nipper $1650
Tower Detective leg iron $1060
__________________________________________________________________________________
2010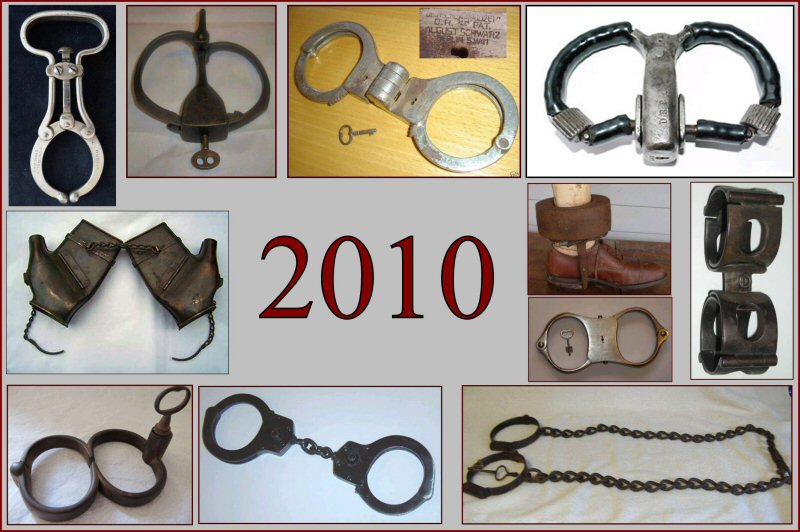 August Schwarz by Hudson -- March 21 -- £1330
Bean Giant -- Jun 22 - $1500 Aug 29 - $1225 July 4 - $885
Froggatt Plug leg irons -- Aug 12 -- $1380
Gardner Oregon Boot -- Sept 20 -- $1275
Horst Stein -- Jan 31 -- $2690
Hugo Stanley -- $1600 -- Nov 15
McKenzie Mitts -- Feb 12 -- $5277
Muehlenfeld No 113 -- April 16 -- $3625
Palmer -- Jun 5 -- $1275
Parker Side Snap 8 -- Sept 12 -- $1850
Shear Nipper -- Jan 26 -- $1850
__________________________________________________________________________________
2009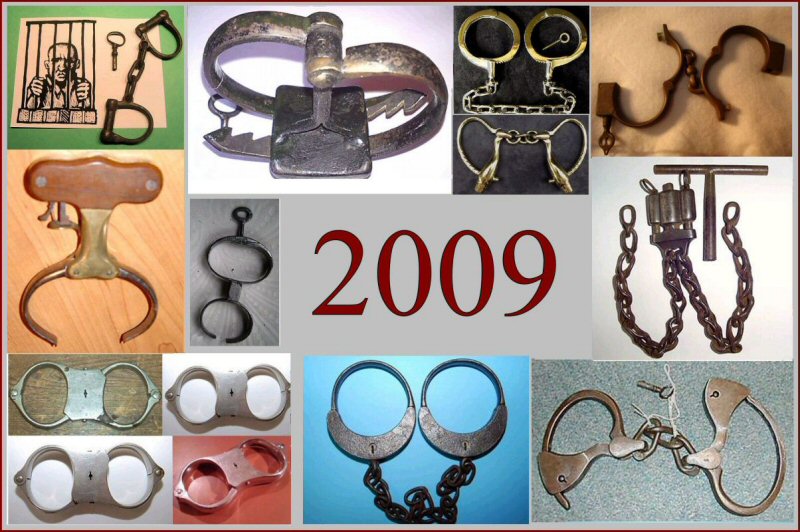 Bean Giant Handcuff -- $2010 Nov 7 -- $1900 October 11 -- $1860 Nov 11 -- $1750 Dec 12
Berliner Handcuff -- $1635 August 15
Elijah Rickard/Elias Richards -- $6101 April 11
French Chain Handcuff -- $1729 Nov 30
H & R Super Leg Irons -- $850 Jul 04
Hiatt Nipper (Locking) -- £822 May 15
Marlin Handcuffs -- $850 Jul 03
Lutz, Royce, Trenor and Chadwick Nipper -- $ 2052 April 22
Phelps Handcuffs -- $2280 April 17
Rankin Handcuffs (Brass) -- $5200 October 19
Romer Leg Irons -- $1480 October 12
__________________________________________________________________________________
2008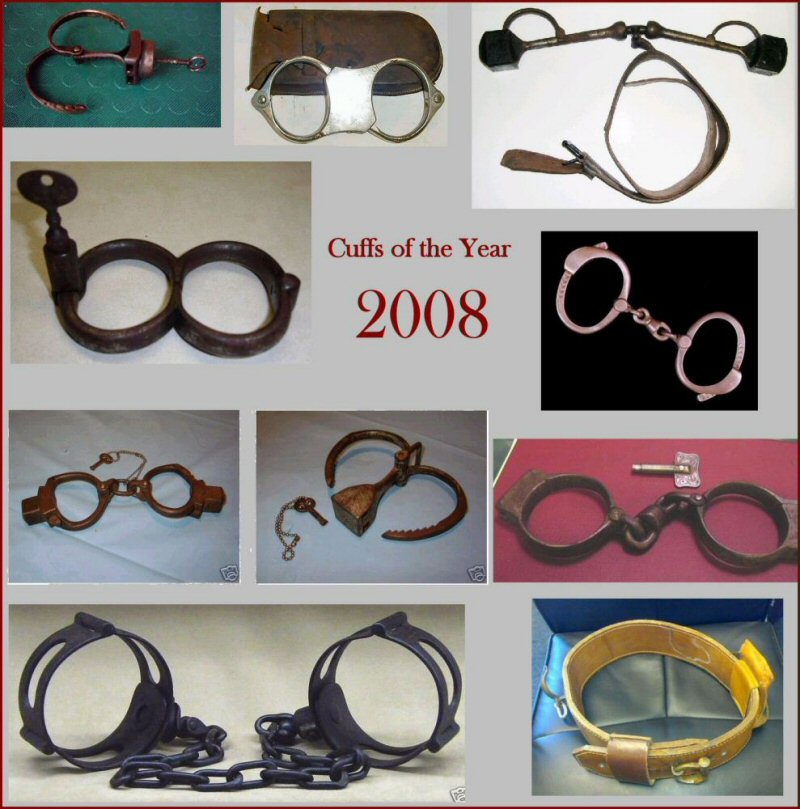 Hiatt Side Snap 8 -- $1734 -- Feb 2
Wisner and Hoyt -- $6225 -- April 25
Muhlenfeld 115 Chain Handcuffs -- $5432 -- May 10
Muhlenfeld Barmen 113 The Dortmunder -- $1875.99 -- May 10
Hiatt Restraint Belt -- £908 -- Aug 17
Bean Giant with case -- $2126 -- Oct 18
Berliner -- 2910 Euros -- Oct 27
German bar cuff with belt -- 1783.22 Euros -- Nov 22
Delestatius Handcuffs -- $1582 -- Nov 23
Palmer Leg Irons -- $1550 -- Dec 14
__________________________________________________________________________________
2007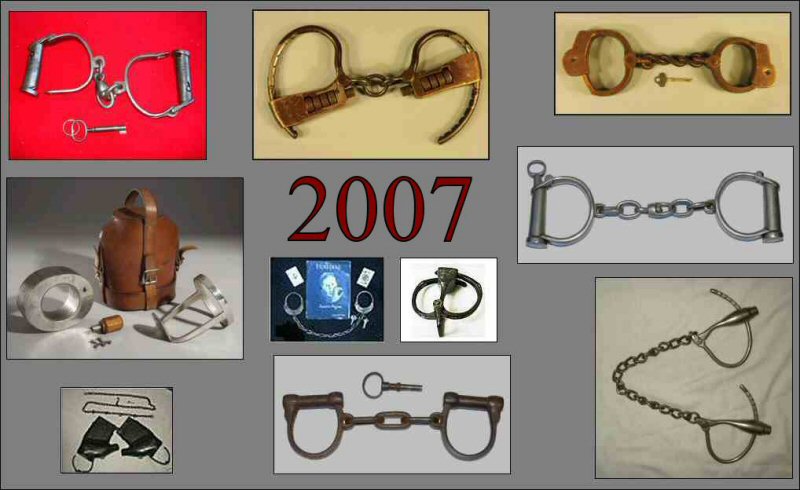 Berliner Handcuffs $3,000
Elias Richards Handcuffs $5,601
Griffin & Nichols Handcuffs $2,840
Houdini Owned Romer Leg Irons $3,250
Lorey Combination Handcuffs $9,000 (Jim Main Auction)
Marlin Daley Leg Irons $15,000
McKenzie Mitts $4,078
Oregon Boot $6,000
Unknown Brass Flat Key Handcuffs $4,250 (Jim Main Auction)
Unknown Side Key