*** Kenroy Skate Park Gets Rolling ***
East Wenatchee, Washington -- 07/29/2010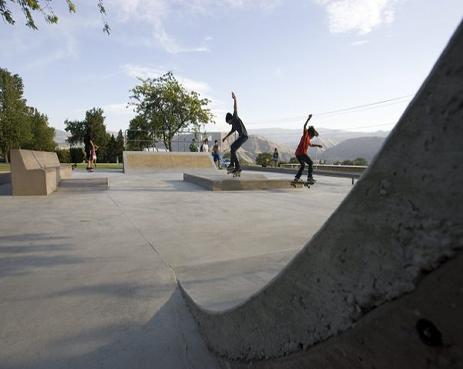 Photo - Angel Valdez, 12, left, and his brother Gustavo Valdez,
9, both of East Wenatchee, try out the new skate park.
Whoosh, whoosh, grunt. Whoosh, whoosh, clatter.
Skateboards glide across freshly poured concrete and 20
kids and kids-at-heart watch and wait for their turn to take
a go around Kenroy Park's new skateboarding feature.
The new Kenroy Park Skate Park is located at N. James Ave
& 8th St NE in East Wenatchee, Washington.
A block before reaching Kenroy Park, you see them: kids
on skateboards, kids toting skateboards. For them, midsummer
has brought a new toy and something new to get out and do.
"This is pretty cool," said Kaleb Kain, 14, of East Wenatchee,
despite his displeasure at bricks in the concrete that slow him
and his fellow skaters down.
"It's a little small," he added later. "But it's a skate park,"
he said, clearly excited to have anything at all to skate on.
He said he's been waiting for it to open for the past six months.
"I think they should extend it over there," said Justin Ashbrook,
12, visiting from Flagstaff, Ariz., motioning toward the northern
part of the park.
Photo - Chance Hubbard, 12, right; and brothers Angel Valdez,
12, left; Gustavo Valdez, 9, all of East Wenatchee, try out the
new skate park.
"I'm stoked on it," said Nathanael Kempff, 28, of East Wenatchee.
"I'm stoked we can get people together to make it happen." The
skate park feature was funded entirely through donation and
volunteer labor.
Mike Leeds, head of Community for Wenatchee Valley Skate Parks,
said about 20 individuals and about a half-dozen general contractors
volunteered their time to help build the 2,000-square-foot skate park.
Community for Wenatchee Valley Skate Parks is a nonprofit
organization that spearheaded the project. Leeds said the project
was worth about $80,000 from concept to completion.
Leeds said safety fencing was taken down Saturday and the feature
was ready to go by midday. By Saturday night, there were kids
everywhere, he said.
"The reason I'm doing this and the reason I think most everybody,
if not everybody, involved is doing it is all for the kids, and doing it
to give back," said Leeds.
Photo - Gustavo Valdez of East Wenatchee, tries a jump off
a half-pipe Tuesday evening at the new skate area in Kenroy
Park in East Wenatchee.
The kids seem to appreciate it. On a hot Monday evening, those
using the park talked about how they like the location — so close
to home — and also about some features they feel it's missing.
"You don't have to go to Wenatchee," said Nathan Ashbrook, 14,
of East Wenatchee. "... I can just walk down the road (to the park.)"
"I think they should have put a drinking fountain in," Nathan
said on a day when the thermometer pushed 100-degrees.
Hunter Urban, 11, who was visiting from Kentucky, agreed,
"I hope they put in a water fountain."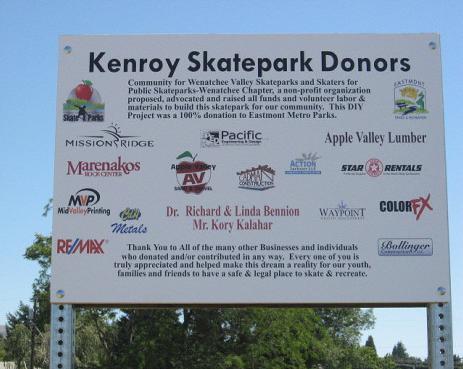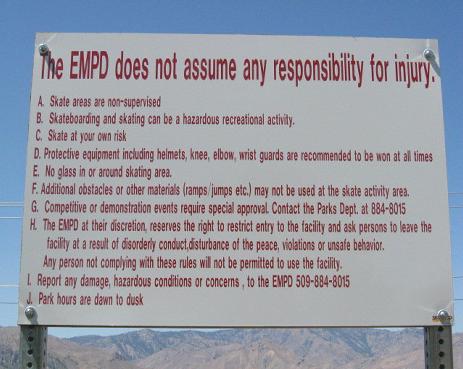 CC - Wenatchee World.
ACC -
http://www.genesbmx.com/WenatcheeSkatePark.html#Kenroy
*
http://www.genesbmx.com/Eastern-Washington-Skate-Parks.html