We're Sure Glad You Found Us!
Whether still using or already on your way, there is absolutely no reason why you can't successfully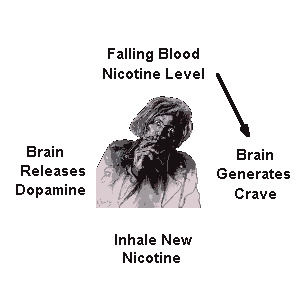 navigate this temporary journey of re-adjustment called "recovery." Years of true chemical dependency upon nicotine falsely conditioned us to believe that it's harder being free than it is staying hooked. It was the biggest single lie that we fed ourselves!
You will probably find this hard to believe right now but here is a simple truth - it is work keeping your blood-serum nicotine level elevated high enough so that you avoid sensing the onset of the early anxieties and mild state of depression that begin arriving when you neglect it. It is not work spending the rest of your life never again having the physical need to replenish missing nicotine.
Nicotine addiction is a "want" disease.  Your brain's priorities teacher, its dopamine pathways, were taken hostage by nicotine.  It has left you deeply believing that nicotine replenishment is as important as eating food or quenching your thirst.  As if starving yourself to death, want anxieties have conditioned you to dread ending nicotine use. 
So what words on this screen could possibly get you to believe us over the internal message your dopamine pathways pound home with every puff?   In all likelihood the rational thinking part of your brain has long questioned why quitting seems so challenging.  If it didn't, I doubt you'd be reading this.
Let's try this.  Try hard to recall what it was like before that first puff ever, before nicotine took control.  Try to recall the calm and quit mind you once called home, where you went days, weeks and months and never once "wanted" to smoke nicotine.   You can't do it, can you?  Our dopamine pathways create the mind's most durable memories, memories that quickly displace all memory of the comfortable mind we once called home.
Why fear coming home?  What sense does it make to be afraid of arriving at a point where you begin going days, weeks and months without wanting for nicotine?   Would that be a good thing or bad?    Try hard to relax and not to be afraid as contrary to what your brain is telling you, you are about to experience one of the greatest personal awakenings you'll ever know.   And it's a good thing not bad. 
Recovery is a temporary period of adjustment. It's a short period of transition from the needs of the endlessly feeding addict who occupied center stage in our lives, to the relaxed and comfortable us.
Think about the endless roller-coaster of nicotine highs and lows coming to an end.  Think about all the times you waited too long before using more, where you desperately needed another big hit of nicotine? - "Where are my smokes!!" "I need a cigarette!!!"    No more!!!
The real you never ever needed nicotine. You were fine on your own. The real you probably resided in a comfortable location about mid-point between the nicotine "aaah" of a new fix and the tremendous anxiety of badly needing one. What if we never ever needed to smoke nicotine again? What if our mind was once again itself, filled with a constant sense of calmness and getting its dopamine releases the natural way (great food, big hugs, cold water, a sense of accomplishment, love and/or sex). Would that be good enough for you? If so, join us!

Forget about quitting smoking "forever!"  It's the biggest psychological bite imaginable.  If the only time you can celebrate complete victory is by quitting forever, be sure to include a provision in your Last Will & Testament for your surviving family members to throw a quit smoking celebration party without you. Instead, throw the party yourself, join in our daily parades here at Freedom, and let each and every day of healing be a total and complete victory in and of itself!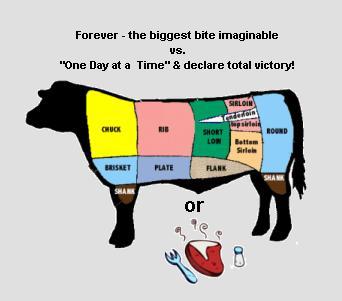 Instead of sitting down to the dinner table feeling the anxiety of thinking you need to eat an entire cow, why not have one nice juicy steak instead!
Just one rule - no nicotine -- not even one puff -- just one day at a time! Develop the patience needed to achieve complete victory today. Within 72 hours your blood will become 100% nicotine clean, the anxieties will peak, and then begin their gradual decline. To "cheat," "slip," or reward yourself with "just one" means that you have RELAPSED and you now have to do the most challenging part of chemical nicotine withdrawal all over again - the first 72 hours of chemical withdrawal.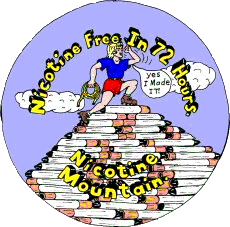 We each have sufficient energy and strength to go the 72 hours needed to allow our brain to begin bathing in 100% nicotine free blood serum. Just one hour and crave at a time if necessary. Very few of us have the strength to relapse at 72 hours and then immediately go through the whole blood cleaning process all over again. To think that you can smoke what may be the world's most captivating substance at the exact same time you're breaking free from it, is just plain stupid. I hate that word (stupid) but in this rare case its use seems justified. Just one puff of new nicotine and it's all over!
Unless multiple cues are encountered, it's unlikely that a cue triggered crave anxiety attack will ever last longer than three minutes.  But keep a clock handy as time distortion is nearly a universal recovery symptom and the minutes may seem like hours. The number of craves experienced by the average quitter peaks at six on day three (72 hours). If true, can you handle the 18 minutes of serious anxiety that the average quitter senses on the most challenging day of their recovery? Sure you can! We all can!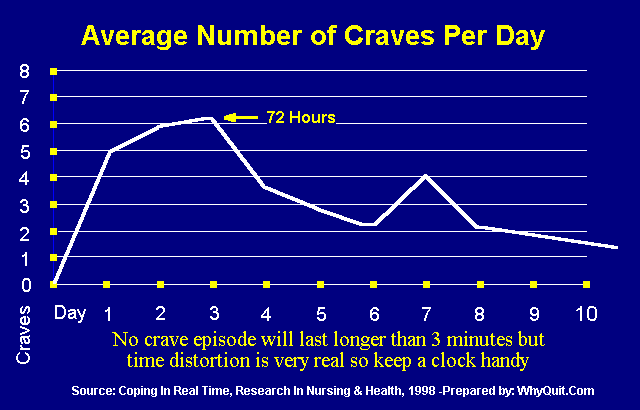 Two things to keep an eye one early. Drink natural juices for the first 72 hours (cranberry is excellent). Nicotine fed you with each new puff via adrenaline releases of stored fats into your blood stream. The juices will help both stabilize your blood sugar level while giving your brain a chance to resume full control of blood sugar production. This should also help with any concentration or mind fog type symptoms you've had with prior quits.
Also, don't skip ANY meals but then don't eat more food either. You don't have to give up anything when quitting except for nicotine but don't allow food to become a new crutch either. In that nicotine fed us stored fats via adrenaline releases, you may have been able to skip breakfast and/or lunch during the entire time you smoked. If you try skipping meals after quitting, your blood sugar will take a nose dive and you may experience lots of unnecessary symptoms including difficulty concentrating, a dizzy sensation or fatigue. We don't need even one calorie more of food but many of us do need to learn to spread our food intake out more evenly over our entire day. Don't skip breakfast!!!
Also, if you were a big caffeine user (more than 750 mg per day) then you need to know that nicotine users need roughly twice as much caffeine as non-users in order to get the same sensation. Yes, nicotine somehow causes caffeine to be metabolized and depleted by the body at twice its normal rate. If you are a big caffeine drinker and fail to reduce your daily intake by half after quitting smoking, you may find yourself experiencing tremendous anxiety, climbing every wall in sight (the neighbor's walls too) and possibly not being able to sleep.
Baby steps! Just one hour at a time, focus only on here and now, and soon you'll have your first complete day of victory! Today may be easy, it may be challenging, but it will be a complete victory, and the glory will be all yours!
This is your life and that is your body. They were never meant to be imprisoned for life! It's time! Lots of deep breaths and nice cold water!
Breathe deep, hug hard, live long!

John - The Gold Club