---
For those in the early days of their quits. What you feel like the first few days is what it is like to be a smoker in withdrawal, not what it feels like to be an ex-smoker. These two states are worlds apart. To stay in the ex-smoking world only requires remembering now to never take another puff!
Joel
---
I have a non-member who emailed me who I just referred to
www.WhyQuit.com
who I think would benefit from reading this.
---
I am bringing this one up for the same reason as the time just above.
---
---
---
don't ever be afraid to quit. it's a decision you'll never regret.
---
---
---
---
---
---
---
---
"If the smoker were correct in all his assumptions of what life as an ex-smoker were like, then maybe it would not be worth it to quit. But all these assumptions are wrong. There is life after smoking, and withdrawal does not last forever. Trying to convince the smoker of this, though, is quite an uphill battle. These beliefs are deeply ingrained and are conditioned from the false positive effects experienced from cigarettes."
---
---
---
---
---
---
---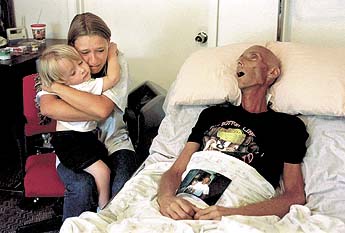 Is there any guarantee that you'd ever come this far again?
Your brain was tuned and conditioned to function around the presence of nicotine and its two-hour chemical half-life. What would be different next time?
How much more time do you have before risking being among the one-quarter of adult nicotine smokers who fail to live beyond middle-age, or the half for whom a birthday near their 60th is the last they'll ever see?
What chemical is worth surrenduring up to one-third of your functional lung capacity and a substantial portion of your ability to smell and taste?
There are only two choices. On which side of the bars will you spend the balance of your life?
---
---
Lest any of us forget.

We have three real world examples currently happening to board members that really show what kind of bad days smoking is capable of causing. The side effects that people may go through from quitting are nothing compared to the side effects that can be caused by not quitting. The three stories unfolding below clarify this point. No one should ever think that quitting is a fate worse than death. The best way to mimimize your risk of facing real pain and suffering is to remember to stay totally committed to the promise that you made to yourself when joining to never take another puff!

Joel

Stage 4, lung cancer interview

Quit for Life!!!

My Health
---
This is a good article for anyone questioning whether or not "this will ever get better." Your health and your life will likely be infinitely better than it would have been if you never quit as long as you stick with your commitment to never take another puff!

Joel
---