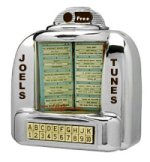 Joel's Jukebox
This link to

Joel's Jukebox

takes you to an extremly fast online iPOD-type player that allows for easy listening of Joel's 64 audio stop smoking lessons. Our thanks to Freedom's HWC for building this page.
In that Joel's Jukebox is a brand new feature within
Joel's Library
we'd sincerely appreciate user feedback as to:
1.   Whether or not the web page opens using your browser and how long it takes to open.  If it does not open please tell us the type of browser you are using.
2.  Approximately how long it takes after clicking a lesson before it begins to play.  If there is a significant delay we'd appreciate you telling us whether or not you are using a dial-up modem.
3.  Any thoughts on improving this page.
Thanks!!!
John (Gold x10)