As Mari recommends,
Don't just embrace your craves, name them!
Just one crave at a time! This is doable!
---
The trick is staying calm yet prepared!
---
John,
Thank you for this insight. For as long as I can remember I have never DEALT with hard or uncomfortable feelings without a crutch of some sort. It was usually cigarettes, but also drinking, food, running, sarcasm, etc. I actually thought is was what one should do in the a crisis or difficult time. First thoughts are stuff it down, mask over or inhale the poison, drink and laugh so on. Since I have quit on Jan 14, 2002 I have had many opportunities to run to my emotional crutch, the smoking. A few times I was dangerously close but the intensity passed and it wasn't as scary as originally thought. For me it is all about re-conditioning, its a huge world out there as a non-smoker, lots of things to learn and re-learn. The fact that I don't light up cigarettes is a small part of a big picture. In the process healthy decisions are being made, emotional maturity is being reached, discipline is being practiced,habits replaced, freedom gained. It is a package deal! Your point is an excellent one. I used to view the craves and even thoughts as these huge overwhelming obstacles that couldn't be beat. They really aren't that scary anymore for me, they have been exposed now I feel I can stare them down and wait em out if necessary.
Michelle
1 week, 3 days, 22 hours, 48 minutes, 13 seconds
Last edited by
michelle25
on July 23rd, 2009, 2:37 am, edited 1 time in total.
---
I debated about this subject almost all day Sunday. On Sunday nights, I usually have supper with my mother, who still smokes two packs a day, Maxi 120s!
It being Sunday of my first week, I was very nervous - should I "embrace the crave" or should I call her and make some excuse why I can't come over. If I face this will it be the cause of a relapse for me? These thoughts stayed in my head all day. I spent a great deal of the day reading posts here at Freedom.
I decided I could do it. I went to her house armed with a bottle of cranberry juice and some suckers. Initially, I stayed at least 15 feet from her while she was cooking (and smoking). Then came our dinner together. Afterwards, she immediately lit up. I was so surprised at myself. The craves, desires, came in like giant waves, but crested and fell very quickly!
I think it may have been harder on my mother. Because I was tense and it seems like I talked non-stop!
But I drove home, yelling "Whaa whoooooo", because I felt like I had drove straight into a tornado and survived it! I will never be afraid to sit with my mother while she smokes, again! I embrased it, I TACKLED IT!
Bridget
1 week, 7 hours and still feeling great!
---
Thanks DHD, glad it helped, and welcome to Freedom and congratuations on three weeks of awesome healing! I was just getting ready to post to your first thread but then saw this post and decided to reply here.

To answer your question, we provide new arrivals with guidance during the first 72 hours, and answer or address their individual concerns after becoming members, but beyond that they are pretty much on their own to explore, read and focus in those areas or on those issue that attract their attention. When they do post to a particular thread - the way that you have here - it pulls that thread to the top of the message board where the group takes notice and peeks to see if the member needs any additional help.

Aside from Joel's Library and the motivational materials at WhyQuit, Freedom has almost 100,000 archived posts containing a wealth of member insights! You'll see Joel, the managers, and seasoned Freedom graduates (Oldbies) cycling through and pulling up selected threads for a variety of reasons. Joel is not only cycling members through the heart of his library, bringing a couple of articles to thread page 1 each day, he also sees posting trends and patterns developing within the group, has a sense of where most members are within their quits (new members tend to arrive in bunches), and will often highlight important concepts by focusing the group's attention on a member's individual concern.

Not only will we encourage you to consider embracing your craves, we encourage every member to embrace education and understanding as the keys to developing the tools needed to allow their healing and new life to become permanent We're here if you need us DHD and congratulations again on three weeks of healing. Breathe deep, hug hard, live long! YQB John (Zep)
---
DHD,

Great to hear from you again! This is one of my favorites too. Sometimes, the temptation is to try to wish a crave away by pretending it's not there. I liken it to the monster under the child's bed. The longer the child lays awake in fear of the unseen threat under the bed, the bigger, more dangerous and frightening it becomes; the more power it has over the child. As soon as the child peeks under the bed, and acknowledges what's REALLY there, the monster's power fades. Great job embracing those triggers!

YQB (Your Quit Brother),

Bob
---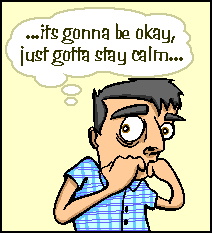 That next crave can't hurt you and it won't make you bleed!
It won't last longer than it took to smoke a cigarette!
Relax, embrace it, and say goodbye to your needless fears!
Patience!
This isn't what it feels like to be a comfortable ex-user.
This is what it feels like to say goodbye to our former master!
Smile! The calmness ahead is permanent and deep!
Last edited by
John (Gold)
on July 25th, 2017, 9:03 pm, edited 3 times in total.
---
Hi John, I know this is an older post but the one line that got me was "How much of the anxiety associated with your quit is self induced? "
I can't count how many times I've beaten myself up over stupid things and thought "Oh what do I keep trying for?" I think I've answered this a hundred times and each time it gets easyier to say "My own health!" and "I won't take another puff!!"
I have chosen not to smoke for 1 Month 2 Days 3 Hours 50 Minutes 51 Seconds. Cigarettes not smoked: 2089. Money saved: $312.32.
Last edited by
Rickgoldx5
on March 22nd, 2009, 9:46 pm, edited 1 time in total.
---
Just three minutes to say goodbye to another another feeding cue!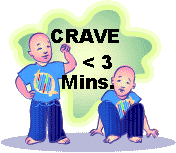 You can do that standing on your head! This is doable!
You're going home to be with you!
Last edited by
John (Gold)
on July 25th, 2017, 9:05 pm, edited 2 times in total.
---
John,
This little article has helped me tremendously to gain the courage to go out to a bar/club tonight. I've been anxious about tonight all day today because that social scene was when I smoked the most nicotine. I even thought about staying home. But i don't want to put off the inevitable and it makes no sense to. I'm on day 6, nicotine free and have been staying away from alot of triggers as much as I can but I know I can't hide forever.
Tonight will be the first real situation that I'll be in since Sunday where there will be smokers.
Thanks to your article I've gained a new sense of strength. I'll read it again before I go out!! Gosh, I really love this forum......you are all sooooo helpful!!
Thanks agains!!
Joy
Last edited by
joyfulgrl
on July 23rd, 2009, 2:25 am, edited 1 time in total.
---
I read your article earlier today and it stuck in my mind for some time afterward. I was trying to decide if I am running away from "craves" or hiding or exactly what. Then I got busy after deciding that I don't really know what I do--would have to wait till the next episode developed.

Just now as I lay out linoleum on the den floor to cut for the little bathroom I had to laugh. Last week I would have run in terrror from reflooring a room. My creative juices were always fed and rewarded with cigarettes. when I got involved in relatively complicated activities. And here I am at the end of three weeks, snorting with frustration, concerned about getting my measuremets correct , rolling a heavy roller over the linoleum to straighten it--------and I am not out of breath, I am not tired. My legs are not heavy., and tho' I am thinking of cigarettes as you can tell by my message, I really can't say I want one. I still don't know tho' if I go out to meet my craves and hug them. Maybe time will tell.... Lilac
---
Thanks for bringing this article up Roger. I did not know until I'd read through all the messages here that you had brought this thread up for me.
While I was reading the John's original msg, I kept saying, "Oops - that's me. That's what I've been doing. Running..." I get it. I finally get it. I have read several articles about triggers, but this one is the one that did it. I read the subject, "Have you ever embraced a crave?" HA! Ya gotta be kidding! Look forward to? Embrace? the crave that drives me CRAZY? But, I read the article, and I got it.
OKAY CRAVE - bring yerself on!
Lynne
Last edited by
Lynne
on July 23rd, 2009, 2:29 am, edited 1 time in total.
---
What a wonderful Post this is!I never thought of embracing a craving.. Thought they were to be feared... I was teetering.BAD.Cravings were real bad...Almost tearful.. Ate out tonight and the staff at the place were so confused where we should sit. Tried to show us our usual table in the smoking section. They were so used to us sitting in smoking section they argued among themselves as to where to seat us. . .. Looked at us like we came from outer space when kept requested non smoking. . However it felt good to sit in non smoking :-). I was afraid to go there tonight as we used to smoke there for many years....Very habitual place. Made it over that hurdle too. Nicotine free.. Still fighting back! Determined not to take another puff..
---
A three minute crave will not give you emphysema. Would you like to compare the challege of a three minute crave to the challenge of having emphysema? Get a drinking straw and try breathing through it for an entire three minutes. Now imagine only having that many functioning alveoli for the balance of your life. Forget about exercise - out of the question. Your battle is to simply keep breathing.

A short crave anxiety episode can not cut you, break a bone or otherwise hurt you, while that one puff of nicotine for which it begs could very well bring with it a 50/50 chance of you receiving the death penalty.

Unlike smoking, the challeges of this adjustment period called quitting are temporary. The next few minutes are doable!

Breathe deep, hug hard, live long! John
---
So much of what we feel is self-inflicted!
Relax and clear your mind of needless chatter!
---
Thank you, John for this post. I honestly believe this is the way I have been able to stay quit this time. I have "accepted" these cravings and understood that they will happen and that they need to happen so that I can heal myself. I believed that the cravings would get better after the nicotine was out of my system and it is true, they aren't nearly as bad and don't last very long. It is easy for me to think of something else when the craving occurs.
I have been anxious to meet the "other person" inside of me that I have forgotten about nearly all of my life.
I want to love that person and take better care of her. Thanks for your wonderful perspective!!
second chance
Last edited by
second chance (green)
on July 23rd, 2009, 2:30 am, edited 1 time in total.
---
I was pretty beat-up after 30 years of defeats, Second Chance, and it was nice looking in the mirror and having a bit more respect for the fella looking back. As for the sense of comfort, roughly 90% of Freedom's members spent their ENTIRE adult life trying to keep up with the simple fact that one-half of their body's nicotine reserves were constantly being depleted every two hours. The endless cycling between need and feed was draining. The dopamine tub doesn't overflow anymore but it doesn't get empty either. It's almost like the tub is always a little more than half-full and the water never gets cold. It's nice! The next few minutes will be doable Second Chance! John : )
---
Still great reading John. I believe this principle is an integral key to an earlier comfort level. Fully understanding it requires just a slight adjustment of the big picture. Perhaps a slight change in ones attitude.
Last edited by
Roger (Gold)
on July 23rd, 2009, 2:31 am, edited 1 time in total.
---
Riding Robust Dreams to Freedom
What is the inner source that will allow you to stop smoking nicotine, skip those once mandatory feedings, and resume full control of your life? Strength, willpower, desire? It would be natural to think that it's a combination of the three but none of us are stronger than our addiction, as is clearly evidenced by our inability to live the drug addict's first wish of being able to control the uncontrollable. You cannot beat your dependency into submission, stand toe to toe with it, or handle one puff of nicotine and prevail. Nicotine's chemical bond with the brain's reward pathways is beyond the reach of strength. Willpower? Yes, we can each temporarily muster mountains of willpower but can willpower make any of us of us endure a challenge that we lack the motivation to complete? Can you inhale, chew or **** nicotine into your body and then "will it" to not travel to the brain's addiction circuitry or create the chemical need for more? Have you ever been able to order or command the challenges of chemical withdrawal or psychological recovery to cease? If we are incapable of using strength to control our addiction and we cannot "will" our chemical dependency into hibernation or submission, then what remains? As simple as it may sound, dreams and desires born of honest recognition of tobacco's impact upon our life have the amazing ability to fuel change, but it takes keeping those original honest motivations in the forefront and driver's seat of our mind so that they can both consciously and subconsciously guide us home. The successful quitter finds ways to protect and safeguard their primary motivations so that they remain robust, alive and available at a moment's notice to fuel the patience needed to transition this temporary period of adjustment called "quitting." The intelligent quitter's strategy combines an understanding of the law of addiction - one puff of nicotine equals relapse - with well-protected core motivations. The successful quitter does not try to forget what their health was like while smoking, what it felt like to be controlled, the growing sense of becoming a social outcast, or that feeling as we stood at the tobacco counter and paid our hard earned money to purchase the more than 4,000 chemicals contained in each cigarette that would slowly destroy our body and mind. The successful quitter keeps such memories - and others - in the forefront of their mind as honest reminders and motivations to fuel their dreams and desires. The intelligent quitter realizes that if they allow their motivations to die that it is very possible their freedom and healing will die along with them. The intelligent quitter finds ways to fuel their motivations, just one day at a time, through study, understanding, education, skills development, critical observation and honesty. They know that they are 100% guaranteed to continue free today if they'll only maintain and protect their original day #1 genuine desires to ... Never Take Another Puff!

Breathe deep, hug hard, live long! John
---
From:

Storm_

Sent: 5/18/2003 6:03 PM
Maybe my head is still in a fog, because I have read this over and over and I don't get it. How do you embrace a crave? Does it mean to accept it for what it is (a crave) and deal with it the best you can? Today has been a bit challenging, but so far, I have rode it out. I felt like I was sure to lose it earlier, but I think I'm ok now, thanks to my husband. He talked me through it. I've had trouble getting anything done today. I didn't even want to get myself cleaned up, but I made myself do it anyway. I really feel abnormal in my way of thinking today. Anybody else felt this way too??
---
Storm, this has been reposted so that the .exe file link you attached could be removed. Please review our
Our Courtesies
as all external links need to be cleared in advance through one of the managers.
As for this post, sitting around fearing the arrival of the next crave can be draining. An objective of this post was to try get members to see that much of the anxiety we feel during early recovery is self-inflicted. It was my hope that members might lose some of that anticipation type anxiety if they would only allow themselves an opportunity to experience a crave for what it really is - a brief anxiety event that can not hurt you. John
Last edited by
John (Gold)
on July 23rd, 2009, 2:28 am, edited 2 times in total.
---
Looking Forward to my next Difficult Day!
No, you didn't read the headline wrong, nor is it a typo. Earlier this week I had a few difficult days, but I embraced them. Why? Because I knew today, (a day of comfort and celebration), was just around the corner! Difficulty makes Celebration so much sweeter! Here's to "difficult days", and especially to those days that follow them!!!-------
Ouija7
Last edited by
Ouija7
on March 8th, 2009, 12:30 am, edited 1 time in total.
---
I think I'm lucky working where I do (post office) while going through the first days of ending nicotine use. I find great release in throwing my head back and sort of yelling HAHAHAHA while throwing my arms in an arc behind me. And then I yell I Had An Urge!!! It's amazing the feedback you can get from people you thought you knew. Share yourself and be amazed at what you recieve.
Debra
---


This smile on my face belongs to you Debra, thanks! This is a very special time for all of us and to see members delighting it taking back control of the more than 200 neurochemicals that nicotine held hostage is special. Be proud of you! All that matters are the next few minutes and each is entirely within our ability to move beyond. We're beside each other in spirit. John

---
Meeting, greeting and reconditioning all of our subconscious nicotine feeding cues is a very necessary part of recovery. Calm those deep inner fears as there is absolutely no reason to fear this temporary journey of adjustment back to fully and comfortably engaging life as "us!" You're going home and there's only one rule, no nicotine today ... Never Take Another Puff!

Breathe deep, hug hard, live long! John
---
great post for me today!
Last edited by
smurfetteirl
on March 8th, 2009, 12:33 am, edited 1 time in total.
---