ONE MORE THING JOHN:

I am not sure where those Threads Are...

Can you please post them for me???

Thanks...Judy
---
Hello Judy:
I didn't see the post you did about the 4th of July so I am limited to what I can say about it. The post I did about
Memorial Day
was really taking the opportunity of the holiday to do a little historical education about smoking and the toll that it took on American soldiers who were in fact some of the earliest victims of smoking related diseases because of the way cigarettes were given relatively freely to the soldiers of World War I and World War II as part of their rations.
In the
Summertime
post I did today, where I started to talk about the 4th of July holiday, I again tried to make the message all inclusive--it was not that we were trying to get every one at Freedom from all countries to honor or celebrate an American holiday--rather I was trying to get everyone at Freedom to appreciate every day as not smoking as Independence Day no matter what date of the year it is and no matter what country you are from.
That is the trick in trying to keeping the board focused--not to ignore the world happening around us but to try to use events that happen around us as a backdrop for delivering a message that reinforces people to stay smoke free.
I do cover the 4th of July Holiday because it is one day that often creates strong triggers for some people when it comes to smoking. Some people remember lighting fire crackers with cigarettes when they were first starting smoking. Many people remember smoking while watching fire works and if this is there first year being smoke free this specific activity will be a trigger. People get together with certain people at picnics and parades that only happen once a year on the 4th of July so these events too may be triggers. Again, the reason for bringing up the holiday is not to celebrate the event--it is to prepare our members and lurkers who may be facing such events to be ready for thought if they happen for these activities may indeed be triggers.
Again, everyone here should be celebrating tomorrow their day of independence--not because it is an American holiday but because of the fact that they stayed independent for one more day, and will stay independent every day in the future as long as they always remember to never take another puff!
Joel
---
Hi Joel:

Thank you for the wonderful response.

Yes, you did talk about the soldiers in that thread and how smoking had affected so many of them. I in return talked about my father and how he started to smoke in the war. It was a wonderful Thread and it was not just about the holiday.

Yes, we do have to direct all the threads here to give everybody support in their quits. That is the most important thing here. Yes I deleted my thread because it was more geared towards the Holiday rather than smoking. Although I did mention about being smoke free during the holiday... It was not enough...

John has explained everything to me and I do thank you both for being the backbone in my quit.... For both being there for me when I need you.....

Thank You.

Judy
---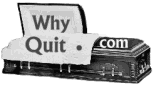 A struggling visitor is knocking at the door. It's day two of his quit and he has arrived at Freedom with doubts flooding his mind. Two rather intense anxiety crave episodes so far, he has three to go to make it thought the day. As with over 4 million other smokers this year, both time and opportunities have run out. Unless successful today the heart attack next month will be fatal. His mind has tried to convince him that his last two minute crave anxiety attack was more like two hours long. He is giving his all while knowing almost nothing at all about quitting. The first thread he clicks upon turns out to be a birthday party. Desperate, he decides to try another. This time his anxieties are greeted by a comfortable and highly successful six month quitter describing in great detail how horribly brutal their day has been. Discouraged, he turns off his computer, relapses, and dies.
There are thousands and thousands of wonderful social forums on the net that were designed and created to share and comfort their members when life gets rough, or to celebrate and share when things are good! It's what they're all about. The groups are sorted by age, sex, location, hobbies, political philosophy, religion, occupation, and hundreds of other categories. Here are a couple of links:
If any of you would like to discuss our policies with the managers please do so by email and not on the Boards. We know this isn't easy. We sincerely thank all of you for helping keep the focus here at Freedom on our mission - freeing those dependent upon nicotine! I know I speak for all the managers is saying THANK YOU FREEDOM!
Last edited by
John (Gold)
on September 18th, 2009, 1:15 pm, edited 1 time in total.
---
Thank You Freedom!
As you may have noticed, over the past couple of weeks we've had some rather major construction work ongoing at WhyQuit that has occupied vast chuncks of time of not only the managers but of some of our more seasoned graduates too. Although we've kept one eye on thing, there really is little to be concerned over as Freedom's newest newbies are always surrounded by some of the most educated and skilled cessation givers anywhere on earth! Thanks to all for helping Freedom maintain its focus! Today is doable!
Breathe deep, hug hard, live long! John
: )
---
A Message to Prospective Members
Is Freedom Right for You?
As you'll quickly notice, Freedom remains highly focused on a single topic Freedom from nicotine! With smoking today costing half of all smokers over 5,000 days of life, we are deadly serious about our mission.

If you're here to end your chemical dependency upon nicotine and take back control of your life then you're in the right place. But if you have other needs that you think Freedom should fulfill then Freedom may not be right for you.

There are no days, hours or minutes off from our mission. There are no subject matter exception to our focus posting requirement - it's 100% freedom from nicotine. Every now and then we get a member whose initial agenda is different than Freedom's. We also have to deal with the reality that 100% of our members are on a journey that is moving them away from needing the tremendous front-end focus that defines our mission and comes with mastering the ABCs of nicotine cessation.

Having to expend time and energy in corrective action to maintain forum focus is our least favorite expenditure of time. We have provided a list of links to other forums that you'll find on

www.WhyQuit.com

in the lower right corner. Some of these forums have no subject matter posting requirements whatsoever and almost anything goes.

If you find Freedom's mission focus is in any way troubling to you now then such feelings are likely to only grow more troubling as comfort begins to arrive. All are free to read, use or even print all of our articles and materials but posting privileges are reserved for those who understand the importance of our mission.

Thanks in advance for reflecting upon the importance of our mission. Regardless of the forum you choose, always remember that once established chemical addiction is a permanent condition. To keep your dependeny under arrest requires only that you NEVER TAKE ANOTHER PUFF! John
---
Thanks Freedom for always doing your very best to make sure that every thread opened by any visitor to these boards will be a welcome invitation to stay, read and learn at what may very well be the most focused online cessation tool anywhere. They're not here seaching for a social life, to debate or to be entertained. They came in search of knowledge and serious support in helping them arrest their addiction. It's who we are, it's all we strive to be, and we wouldn't be the tool we are, without the amazing cooperaton of all of Freedom's members! Thanks!
---
If the intense focus demanded by this forum begins to bother you then please try and understand that it's not necessarily a bad sign. It may mean that you are getting along in your quit and growing just a wee bit tired of the endless hammering of the ABC's of nicotine cessation and the intense focus that will always be the hallmark of this site. But as the ABC's become second nature to you it's easy to

lose sight of the fact that the ABC's are what this place is all about.

During 2002 our members on a whole have done a fantastic job of understanding and appreciating the evolution of their online needs. It really is akin to high school graduates outgrowing the school's programs or teens growing up and finding mom and dad's house rules just too darn confining.

The entire forum is extremely thankful that so many in harmony with Freedom's core teachings choose to stay and help support the the next generation of arrivals. But we are just as thankful to all those members who realize that they've outgrown Freedom's structured confines, yet handle this simple reality in a mature manner. To attack, disrupt or even destroy this forum would be so so easy. Thank you Freedom !
---
As some of our newest members may have already discovered Freedom marches to its own drummer. It's no accident that the focus here is so serious and single minded. The single mindedness flows from the realization that there are only two options, freedom or feedom. The tremendous focus maintained here is in large part derived by most members developing an educated appreciation of just how serious every member's quest for freedom actually is.

This thread only asks that each new member to take a moment and reflect upon the simple fact that as your quit matures and comfort begins to arrive, you may possibly tire of constantly hearing the ABC's of quitting, over and over and over again, as generation after generation of new members continue coming through the door. All we ask is that each of us dedicate ourselves to ensuring that the next generation arrives to the same serious and focused message that was present when we began our quest. There's only one rule - no nicotine - Never Take Another Puff! John - The Gold Club
---
If this place seems overly serious to you then
you've got it right. The bottom line is that
the cause of death for 50% of the smokers you
saw today will be the smoke you witnessed them
inhale. We wish we could sugar-coat nicotine's
destruction but is that what you really want or need?
---


" Out of respect for Freedom and what she has done for you, and others, we ask that as your quit matures into comfort and you begin to find the structure here at Freedom too confining that you act in a mature manner that ensures that all new arrivals will be able to enjoy the same life saving message that Glory Week shared with you! "
---
Thank you, thank you, thank you! I know we don't say it nearly enough but to one amazing group of givers we offer a simple thanks!

Over the months and years many of you have invested mountains of time in reaching out while motivating, educating and supporting Freedom's newest generation and in return receive only the warmth of knowing that you'vee touched the life of a faceless brother or sister, in an ohhhhh sooooo special way. I wish there were more but the warmth you feel is truly justified as together you've been one awesome team!

You're touching and changing lives!
Last edited by
John (Gold)
on September 18th, 2009, 1:18 pm, edited 1 time in total.
---
I just read Richard's diversion post to Parker's anything goes parade and the biggest smile came over me. You are one amazing collection of folks! Think about it - it isn't easy staying 100% focused 100% of the time on only one issue -dependency recovery - but each and every one of you do an utterly amazing job. Although clearly not enough, I know I speak for scores of dedicated givers who are devoted to helping the next generation of arrivals taste their own lasting freedom when together we say thank you, thank you, thank you for helping keep this very special place the amazing tool it is!
Last edited by
John (Gold)
on September 18th, 2009, 1:17 pm, edited 1 time in total.
---
We're told every once in a while that we need to be more like other forums and let members do their own thing, that we're taking quitting far too seriously, or questioning how we can call ourselves Freedom when there is no freedom of general socialization, freedom of speech to engage in discussions about issues other than nicotine dependency recovery or prevention, no freedom to advertise, and absolutely no freedom to explore toying with the latest quick-fix magic cure.

They're right in every regard except one, we have no desire to try and be like anything other than what we are - an education, motivation and support tool that will always and forever put education first. We're a serious classroom first and foremost, we have to be as nicotine dependency is not some multiple choice exam where the price of failure is simply some bad grade on a report card. Here a failing grade - one puff - is often a death sentence. Above the door it says Freedom from Smoking, not freedom to exercise personal liberties.

Does the classroom have rules with some rather intense focus? Absolutely! Too serious? I don't think so. My second live clinic had fourteen participants. Two weeks later eleven had remained nicotine free and graduated. I just learned that one of the three who didn't graduate isn't doing well in her battle with lung cancer.

The more than four million graves being filled by tobacco each year contain the bodies of our bother and sister nicotine addicts, half having died during middle-age, each an average of 22.5 years early. If they had arrived here looking for a serious recovery tool and only clicked upon one or two threads before making their decision on whether to read further, what would they have found?

We thank each and everyone of you for ensuring that those who do arrive are greeted with the single-minded sense of serious purpose reflected by in the phrase "just one day at a time Never Take Another Puff!"
---
Hello John:
I am sorry to hear about your clinic participant. This is a story that I have encountered many many times over the years. The longer I have been in the field the more often I encounter this kind of news. I just brought up a post that contains a story of one such clinic graduate, also named John, titled
Past FAILURES
. That story illustrates the point that whether or not the woman had succeeded in your clinic may not have made a difference in this particular case, being that she was in your clinic within the last year and very likely had cancer at the time she was quitting. But there is a possibility that your clinic was not the only attempt that she had ever made and if one of those earlier attempt had succeeded it may very well had made a real difference.
When I first started doing smoking clinics I didn't take the work I was doing any where as serious as I do today. Back then I knew the statistics of what smoking was doing, but they were still only statistics to me. By that I don't mean that statistics just say what a statistician wants them to say and were somehow not really true. Deep down I knew the numbers were real. But they were only numbers to me. As the years progressed though those numbers became people I knew. People like John in this story. I can put names and faces to almost every disease imaginable caused by smoking now. The stark reality of the devastation that smoking causes has strengthened my resolve to try to help prevent other such senseless losses. I suspect the same thing happens to you and each of our members as they become witnesses to the senseless loss of people they knew and cared for too.
So as this thread discusses, we take our mission serious here at Freedom. We hope each and every one of our members take their personal battle with cigarettes as seriously as we take our mission here at Freedom. I hope each and every member realizes that their early efforts here to sustain their own quits should be viewed an an effort to save his or her own life. I also want our longer term members who stick around to help assist others to know that they are also participating in an effort to help save the lives of all other members who participate here and even those people who just read here who never joined up. We take what we do here seriously because we realize that what we are doing is trying to help everyone who reads here to save their own health and their lives by staying totally committed in the decision that they made to never take another puff!
Joel
See also
Our Mission Statement
and
Diversions
. They are both strings that cover in depth the concept of keeping our site seriously focused on smoking cessation issues.
Last edited by
Joel
on September 18th, 2009, 3:32 pm, edited 1 time in total.
---
John, there are a few other points I want to make about the situation here with your clinic participant. I just popped up a few strings that touch on issues this story raises. Those posts are: "I have smoked for so long and so much, what is the use in quitting now?"
What A Relief, I Think I Have Cancer!
I smoke because I am self-destructive
Those are for the benefit of people reading here who may think to themselves what's the use in quitting now. For your clinic participant and for others like her who may have been diagnosed with cancer or any other major disease caused or aggravated by smoking, the following two articles are important.
Quitting smoking key to fighting lung cancer
By [url=mailto:dwahlberg@ajc.com]DAVID WAHLBERG[/url]
Atlanta Journal-Constitution Staff Writer
ORLANDO
-- Smokers who quit live longer than those who don't, even after a lung cancer diagnosis, a new study has found.
The study, presented Saturday at the annual meeting of the American Society of Clinical Oncology, found that twice as many lung cancer patients were alive two and five years after diagnosis if they quit smoking, and many more nonsmokers also were disease-free.
The finding, by Greg Videtic of the Dana-Farber Cancer Institute in Boston, is significant because doctors often have a hard time convincing patients to give up cigarettes after learning they have lung cancer.
Patients feel the damage is already done, or they view smoking as a stress reliever to get them through the difficult news of learning they have cancer.
"Many people have a defeatist attitude," said Dr. Carl Tahn, an oncologist with Emory University's Winship Cancer Institute. "They think, 'I already have cancer, why shouldn't I keep smoking?' . . . Studies like this give them a reason to quit. It's never too late to quit."
Tahn said he encourages all his lung cancer patients to quit smoking but only about one-third do.
Dr. Paul Scheinberg, chief of pulmonary medicine at St. Joseph's Health System in Atlanta, said he has persuaded nearly 90 percent of his lung cancer patients to abandon cigarettes.
He tells them to think of smokes as cancer food.
"If patients want to keep feeding the cancer while trying to oppose it, the feeding will probably win," Scheinberg said. "They have to get in the mind-set that the cigarette is not their best friend, as they've been accustomed to. It's a betraying friend."
Donna Belmont-Lehr, 56, of Roswell was diagnosed with lung cancer in 2000. She had smoked for nearly 40 years and had quit three times only to start again. But Bemont-Lehr hasn't had a cigarette since two weeks after learning she had cancer. She shows no signs of recurrent cancer, and she credits nicotine patches, chewing gum, big bags of suckers and a new outlook on life for helping her quit.
"It was the reality of the fact that I wasn't infallible," she said. "I don't intend to go back to smoking, but I don't say I'll never have another cigarette. I just take it day by day."
Experts say quitting smoking allows lung tissues to get healthier and chemotherapy drugs to work more effectively while enabling patients to better withstand the side effects of chemotherapy.
---
Post Operative Complications
Most people, when thinking of smoking risks only think of diseases directly caused by smoking. But smoking can play a major risk in treating diseases and injuries that in a true sense are not caused by or have anything to do with smoking. I am referring to the risk of postoperative complications.
Many doctors will hold off doing elective or non-essential surgeries for as long as possible in order to give a patient time to be totally smoke free. This is not a practice done for arbitrary reasons. Surgery is much riskier to perform on a smoker.
Your risks of complications of anesthesia or postoperative complications are much higher while you smoke. These complications can be serious, making you suffer much longer and possibly putting your life at risk. The longer you are off prior to surgery, the lower the risk becomes.
One cardiologist I worked with in smoking cessation programs over 25 years ago studied the risk of postoperative complications at the hospital where he was then chief of cardiology and thoracic surgery.
At that time he found that in non-smokers the postoperative complication rate was 1 in 50. Smokers had a rate of 1 in 3. If the surgeries were elective and they could wait for the patient to quit, he found that if the smoker would quit for just a week, the rates were 1 in 12. Of course it wasn't as good as a person who had been off for years but it was far superior to current smokers.
The longer people were off the closer the rate became to non-smokers levels. The important thing is to quit as far ahead of any procedure as soon as possible. The only way to get maximal benefit of longest-term cessation prior to any future surgery is to stay smoke free today and for as long as you live remember a day at a time to never take another puff!
Joel
---
Thanks Joel. I love the part of this work where we get to see so many find that rich inner sense of happiness and contentment that comes from just returning to being themselves again. I know it not only fuels my spirit but the spirit of a host of utterly amazing givers here at Freedom. Although expected, the list of victims we each knew continues growing and that part we could each do without. I too once thought your focus a bit too serious but with each passing year I've come to appreciate a bit more how you became the serious giver you are. Thanks so much for all you've taught me. John
---
Thanks Linda. New members need to understand that part of Freedom's education process is in realizing that your needs will naturally change and evolve over time. It is very normal to begin feeling that the tremendous constant focus here, on the ABC's of nicotine dependency recovery, is simply too confining. We know that and we want you to know it too.

Although rough, I admit, it sort of equates to high school or even university graduates hanging around six-graders. If you like teaching or sharing what you've learned with the next generation of new arrivals it's fantastic and you'll fit right in. If you want to use Freedom as a wonderful resource to return to and recharge your batteries from time to time by interacting with those still in early recovery, you may not recognize all the new names but upon return but your common bond, education, wisdom, and your stats or color club will announce your arrival and hopefully always make you feel right at home.

But when the emerging you finds comfort, or recovery becomes manageable, and you develop an urge to use this learning and support institution as a social playground of sorts, or would like to see the focus ease up, we ask that you either resist the urge or alternatively take it to one of thousands of internet forums that don't have a life or death objective, that have few rules, and are designed for general socialization.

Freedom is unlike most other forums and we've each known so since day one. Other than celebrating color club accomplishments in which we all remain united by being just one puff away from relapse, there are no divisions or clubs in this forum along any political, religious, national or even social lines.

One of the unique beauties of this place is that we are an amazing education and support team united behind a single concept of helping each other remain nicotine-free today.

Almost none of Freedom's givers have time to respond to all the needs expressed here each day, together, as a team, we do a pretty awesome job of covering member needs. Our lives limits what each of us can give and many wonderful gifts are given each day by those who only have time for a single post or possibly two.

I know we don't say it enough but thank you, to each of you, for helping keep this forum the highly focused and valuable recovery resource that it was on the day that each of us arrived.

Thank you Freedom!

The above photo is of Kim and Kelly, two loving sisters and givers here at Freedom who remind us of the importance of victory today. You can learn more about Kim at

http://whyquit.com/whyquit/A_Kim.html
---
If it seems like activity here on the message board is a bit off, new arrivals fewer and that hardly any members are celebrating a Golden anniversary, welcome to December at Freedom where historically things have always tended to slow down a bit.

Contrasted with January, by far Freedom's busiest month of all, December with its parties, traffic and gift shopping is a month fewer nicotine addicts dedicate themselves to starting the new year well into recovery. Instead, they tend to wait on the arrival of the new year as their not so subtle reminder that they should contemplate cessation.

If you are just beginning this amazing temporary journey of adjustment take comfort in the fact that holiday emotions won't ever again be a trigger for you! You are breaking those feeding cues. In truth chemical withdrawal timing and sequencing during December is identical to every other month of the year. The differences are the number of excuses available to the junky mind or the rich field of psychological recovery opportunities available to the healing mind. We are what we think!

We just wanted to let members know that we do continue to keep the forum's focus focused upon cessation during the holidays, that there is absolutely nothing wrong, what you're seeing is normal, and you need to get ready for our traditional early January flood of new members. Rest up your fingers as they'll need us!

To stay on the healing side of our dependency requires following just one rule, no nicotine today, Never Take Another Puff!
---
With so many new members it's probably a good time for reflection upon the fact that your needs will gradually evolve while Freedom's mission remains the same. For every comfortable graduate leaving the back door, an embattled newbie enters the front.

Once the gradually emerging you begins growing comfortable it's very likely that'll you'll begin seeing this forum in an entirely different light. We want you to know that a feeling that things are beginning to seem far to structured is normal, expected a very natural part of the online recovery experience, and a good sign!

Please know that it's ok to take the celebration and bonds established here elsewhere to sites with almost no structure that are devoted to socializing. We are not against our members having a fantastic time and letting their hair down. If fact this site exists to help extend life expectancy so that you can make years of additional wonderful memories. What we need your help doing is maintaining the focus of the forum so as not to stray from the serious message present on the day you arrived.

The tone and tenor of this forum could not be what it is without the combined efforts of all. Awesome teamwork is highly evident over the past few days. Many of you have gone above and beyond. I'm sure you've caused many on the receiving end to feel obliged to do the same for the next generation. It's amazing how that works. Together we can!

Thank you Freedom and Happy New Year!
Last edited by
John (Gold)
on September 18th, 2009, 1:20 pm, edited 1 time in total.
---
A sincere thanks to each and everyone of you for helping keep Freedom an achievement oriented forum whose sole objective is in helping every member stay nicotine free today.

None of us have the time needed to daily address the needs of new arrivals but from the newest Newbie to the most seasoned Oldbie, together we form an amazing team!

The fact that Freedom has no distracting or devisive social clubs or cliques and that every message posted remains focused upon the mission at hand evidences the seriousness and oneness with which each us take our mission.

May every generation of new arrivals find the same dedicated spirit and focused support that thrived when we arrived!
Last edited by
John (Gold)
on September 18th, 2009, 3:38 pm, edited 1 time in total.
---
Just a quick thanks to all of our BSG members who have helped make Freedom the nicotine dependency resource it is. Layer upon layer, generation upon generation, you've stepped forward and left your footprint upon the lives and life expectancy of others. What I hope you don't think is that we, the managers, have abandoned you or are not greatly appreciative of all you do. If we seem a bit less visible in recent weeks it isn't because we're not working beside you but that we are each dealing with increased demands upon our time resulting from the tremendous growth and success that each of you have helped foster.

Word is slowly spreading about this amazing place you've each helped create. There are now many days when the emails needing prompt attention just don't stop arriving. Imagine having Linda and Joanne's email boxes as they took care of the tremendous influx of our January members while insuring each was nicotine free and off to a solid start.

And if we think our demands have risen sharply they're nothing compared to the multitude of directions that Joel is being pulled. I don't know how he does it.

Thanks to each of you for picking-up the slack during January. It feels great to click upon a new member's thread and not only see that their expressed concern has been addressed and appropriate references given but that recovery concerns invisible to the untrained eye are also being caught and discussedd.

Think about it. It's almost frightening. Our BSG membership is very likely the most knowledgeable group of ex-smokers assembled together anywhere on the planet. Be proud of what you've done.

Like any institution of learning and support, the impact of your sharing, caring and teaching is being felt far far beyond your screen. To all of you amazing givers who've moved beyond the early challenges comforted by the focus concept of taking recovery just "one day at a time" we say thank you!! Remember, no matter how far our comfort carries us, our arrested dependency travels with us. To us it's as simple as .... Never Take Another Puff!
---
If you're looking in and considering joining us here at Freedom please be sure and read

Our Courtesies

as Freedom is unlike any other cessation forum you may visit. We're a family oriented recovery site, discussions are limited to prevention and recovery related issues and we take our mission deadly serious. With smoking having a 50% adult kill rate we have to. Sincere thanks!
Last edited by
John (Gold)
on September 18th, 2009, 3:35 pm, edited 1 time in total.
---
I found this thread while responding to a question this morning and I am embarrassed to say it is one I had never read! Thanks to all who have come before me to provide such a wonderful resource for quitting and staying quit!

John you mentioned in several posts how helpful it is to have the BSG (Bronze Silver and Gold) Members posting and addressing new members' concerns before the managers do. I just wanted to remind you that the management of this group over the last 5 years has made it so EASY to do! Even though there are over 200,000 posts available now, finding just the right thread to point someone to when it is needed is incredibly simple, which is definitely a testament to the organizational skills of the management here!

Thanks for the group, thanks for this thread, thanks for the way the sites are laid out (I always consider Whyquit.com to be joined at the hip to Freedom and consider it one big site) and especially thank you for giving us the trust to go forth and post. The rules for posting are reasonable and certainly help with my quit as it reminds me that if I need help with other issues offlne, I need to go to the many places available to deal with those issues and if I need help with not smoking then I need to be right here!

Thanks again, hope to be around to help out for a long time to come!

yqb, David - Free and Healing for Three Months, Nine Days and 20 Minutes, while extending my life expectancy 6 Days and 6 Hours, by avoiding the use of 1800 nicotine delivery devices that would have cost me $135.58.
---

Thanks David. If we could start over again we'd probably change a few things, like the name to Freedom from Nicotine. I'm afraid that GSK's November assertion in Tobacco Control that 36.6% of all nicotine gum users are now chronic long-term users is just the beginning as more intense forms of nicotine delivery move into the market. It won't be too long before their speed and punch come close to the experience of inhaling nicotine laden smoke.

Again, we want to thank each of you for helping make Freedom more potent than you found it by making recovery experience a permanent part of the posting landscape.

Also a very special thanks to all our BSG givers. This place just wouldn't have been the same these past two months without your collective wisdom. We've had more WhyQuit & Freedom traffic in Jan. & Feb (over 3 million hits) than we had in all of 2001. Although wonderful, it can be a bit overwhelming at times.

Thanks Freedom!

---