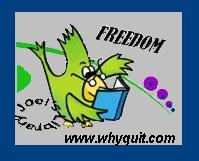 Sometimes when things get a bit slow here at Freedom - normally around the weekends, holidays, springtime or world crisis, there arises almost a natural temptation to try and MAKE something happen, whether in the form of celebration, distraction or crisis. In the early days of Freedom's existence I felt it too! But, we thank each of you for avoiding such temptations. It's ok when things slow down a bit. Freedom remains strong and here for all, should the need ever arise!


It's wonderful when our membership takes a collective deep breath or a bit of time to enjoy the depth of their healing or the world around them! It's why we're here. These are special times for all of us, and once beyond the early challenges we each need to take care not to become slaves to a new master - a computer screen!


Things may seem a bit slow at times but we're here if and when you need us! Still just one rule determining which side fo the bars we'll spend the balance of life ... no nicotine just one day at a time!

John - The Gold Club