Reading through this thread, it's surprising to me that people don't develop cancer sooner!! Of course smoking causes cancer! Look how icky it looks and smells. I might have nightmares about tobacco tar tonight.
---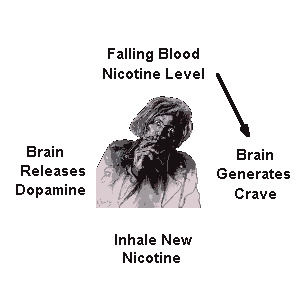 ---
Joined: November 13th, 2008, 2:04 pm
Last edited by
Joel Spitzer
on October 30th, 2011, 1:59 pm, edited 1 time in total.
---
Joined: November 13th, 2008, 2:04 pm
---
---
Hi,

I am more than an year into my quit.
Thought this might help someone going through this phase.

Sometime around month 3 or 4 into my quit, I always got tempted watching friends  around me smoke.  I think it was not temptation but more of a powerful trigger for me as most of my friends smoke.
So, It took about may be 3 or 4 instances of encountering this trigger to extinguish it. I think the more powerful the trigger, the more the number of times it requires  you to experience and remain smoke-free to extinguish it completely.

Now, I don't even remotely desire/crave a cigarette in this situation but rather,  I am disgusted to be around second hand smoke. I openly excuse myself from my friends when they are about to light up..

I would walk away to a distance where I cannot smell the cigarette.(NOT because of the fear of  being tempted, but research has shown that even if you can smell a cigarette, you are inhaling toxins. It wont addict you but would have toxic particles which are dangerous.) I would wait there and play around with my phone or something, After they are finished, I go back. It makes them feel like big time Losers and they admit their helplessness to break free from the grip of the addiction.

I am so thankful that I broke free from this dangerous drug addiction.
---
Thank you for sharing your journey and experiences in overcoming a powerful temptation / trigger. 

I believe it helps those early on in their quit to see the changes that happen. It certainly helped me. As a fellow nicotine addict, just past the 6 month mark in my freedom journey, I relate to your experiences. Some of these more powerful triggers took me a few times to extinguish also. 

Thank you for posting!

Judy,
​Quit June 23, 2013
 
---
I am a very happy ex-smoker. 

The every day triggers for me were taken care of because I had to do them, the rest of the triggers that were less frequent took a little longer. Joel and John and the Freedom staff are correct and life savers ... smarter, not stronger will get us to freedom, understanding and knowing "The Law of Addiction" ... and with this knowledge the fact that 1=ALL. The fine line, If I never take anther puff I will be free, it maybe difficult but really very easy one day at a time. 

I love the visual of the overflowing ashtray, butts everywhere, what place should this messy addiction have in our lives?  None. I am so thankful I have found the knowledge here. Should my computer crash, my power go out, I am educated!!!!!!

THANK YOU.
---
I needed this today. This is such a fantastic site. I feel like everything here is just...understood and the answers are no holds barred and straight to the facts. Thank you.
---