Be careful drinking this New Years
as your life may depend on it !
---
Alcohol and quitting
Eat, drink and be merry.
Last edited by
OBob Gold
on March 6th, 2009, 11:49 pm, edited 1 time in total.
---
Wrote this to a member a while back...
---
This was certainly a challenge for me the first few times at the pub. And, I dealt with it on those occassions by preparing for it BEFORE I got the pints on the table. Before I went out, I reaffirmed my commitment that, at least on THAT night, I wouldn't smoke. It's a tricky business, but I found that if I made the commitment, and repeated it over and over to myself while SOBER, it was easier to stick to it when I got soused.
I think the reason it helps, is that you can formulate some mantras while sober that can carry you through a situation later in the night when you're not. You have your reasoning powers when you're sober, and you can give yourself a 1...2...3... list that you can use later on. However, once you've tipped a few back, you no longer have those reasoning powers. If you haven't given them to yourself ahead of time, you may find yourself FACE TO FACE with Nic, with NO defenses prepared, and he's armed to the teeth, having waited to find you in just such a defenseless state.
I've even brought things I've written down to help me through the event. In fact, I remember when Tess (my wife) went out for one of her first nic-free trips to the pub, she printed out something particularly inspirational from one of the members here (Hal), and carried it with her. She promised herself that if she got tempted, she would take a break, head for the jax (, and read it before making her decision on whether or not to smoke. It got her through a tough night.
Again though, the key point is that she went into the night with a SIMPLE plan. I think the SIMPLICITY is key, because we tend to **** complex things up when we're in the horrors. You formulate the plan while sober, you write it out (or print it out) if you think it'll help, you promise yourself you'll make it through JUST THAT NIGHT without toking, and you also promise yourself that you'll NEVER just simply reach for the ciggie, or buy the Drum without first giving yourself a coupla minutes to review your plan.

---
Remember....
Prepare. Commit. Affirm.
Celebrate the New Year tonight.
Celebrate your freedom in the morning.
---
Off to Vegas again tonight.... (double birthday celebration)... and won't be around for a few days.
While sorting out some clothes to take, guess what.... out falls a pack of cigarettes and a lighter from an old jacket. Absolutely
ZERO
trigger at all as they were calmly dispatched to the bin...... that's what I call Freedom
Have a good weekend all.... and remember.... don't puff.... there is no need....
---
Just figured I'd post a portion of my "two week mark" post here - in case this insight will help any other "newbies" like myself -
During a previous quit of mine (a few years back, before I ever knew about Freedom - a 6 month failed quit, while out drinking (I have also said before that I am a social drinker - just so happens my circle of friends likes to congregate in bars and parties, etc) I used to sit and be miserable about the fact that I couldn't have a smoke. I never felt FREE, I just felt obsessive the whole time. I have been in 2 different bar situations since my quit…. And neither time was it as hard for me as it was even at 5 months in my previous quit. This is because I felt I was making a choice - a good choice. I was more present…and everyone around me was smoking, both times.
I have developed sort of a new perspective on other smokers. I guess I used to have that jealousy thing going on. (I mean, it still creeps up as I am only at 2 weeks…). But now I tend to look at these people thinking that if they are not already disgusted with their "habit" (we here know it's an addiction but I called it a habit right there because that's what they THINK it is), they will be soon enough.. And instead of me looking at them with jealousy, I think that THEY may be (or will EVENTUALLY be) looking at ME with jealousy. They will admire my strength…and when they see me having a truly good time, and being truly present, WITHOUT smoking, they will admire me, and hopefully see me as an inspiration. I do not have to tell these people to look at me that way, or discuss my quit. If they are true addicts and even remotely acknowledging the fact that smoking is a problem for them, they will admire me for what I am doing, and they will long for the freedom I have - or at least am beginning to have (and will eventually really will have as completely as possible).
---
Imagine being in early chemical withdrawal while your brain dopamine, serotonin and adrenaline neurotransmitters were in the process of trying to again adjust to functioning without nicotine. Imagine while your conscious dreams of freedom doing a wonderful job suppressing, calming and overcoming subconscious fears, craves and anxieties associated with leaving its sense of normal, it's world of nicotine normal. Now imagine taking early recovery into a smoke and smoker filled environment and then commencing to drink large quantities of a mind altering and inhibition diminishing substance. What are the chances of success?

It's what these threads are all about. Although we teach that you need not give up anything when quitting that rule must be applied using a bit of common sense. We also teach baby steps and little bites and those principles work well in helping each of us work-up to fully engaging all aspects of life. Alcohol may play a role in half of all fatal vehicle collisions but it likely plays a much greater role in the death toll stemming from nicotine relapse. Plan ahead and protect your investment in life!

Breathe deep, hug hard, live long Freedom! John
Last edited by
John (Gold)
on April 12th, 2009, 7:03 am, edited 1 time in total.
---
We deeply believe that it isn't necessary to give up or change any aspect of your life when quitting but this is one area where a bit of common sense is needed during the first few days. Think it through, plan ahead and don't forget that baby steps are just fine when first learning to walk. Just one objective, no nicotine today!
Last edited by
John (Gold)
on April 12th, 2009, 7:04 am, edited 1 time in total.
---
| | |
| --- | --- |
| From: Joel. (Original Message) | Sent: 6/9/2001 7:12 AM |
It is imperative that everyone here recognizes that everything you can do as a smoker, you can also do as an ex-smoker. You just have to teach yourself how. Somethings you are forced early on to learn immediately, how to eat, sleep, use the washroom, breath, etc. These are things that are required from day one for survival, so even though you may resist doing one of them, you can't resist it for long and will thereby be forced to start to break the association to smoking early on. Other things are sometimes put off and seen as not critical to face early on. Things like working, laundry, cleaning, brushing teeth, combing hair, etc. While it is true you won't die if you stop one of these activities for a day or two, putting off doing them too long will create a set of problems that can be quite annoying to those around you. Besides threatening your livelihood and making you look like a slob in general, if carried on too long, you can really start to feel intimidated that you may not be able to do one or more of these activities ever again. Once again I need to repeat the opening sentence here, everything you do as a smoker, you can also do as an ex-smoker--but you have to teach yourself how.
Now when it comes to areas of less importance, watching tv, sports, playing cards, being a couch potato, and yes, even drinking with friends--things that are not necessary for survival and in fact, things that may not even be good for you, well, the truth is you can do these things too as an ex-smoker. The same process is necessary though, you have to teach yourself how. Holding off too long can create a sense of intimidation, the feeling that you can never do it again. This simply is not the case, you will be able to get yourself back to your prequit existence if you choose to.
Drinking is a special case because the association is so strong and by its very nature lowers your inhibitions and can cause people to do some very irrational behaviors. Smoking can be one of them. Because of the drug influence, it is best to take it on gradually, in the beginning in a safe environment. By that I mean the first time, limit it to one drink just to show yourself you can do that. Also, do it with people who are non-smokers and who really are supportive of your quit. This is a much safer situation in the beginning by going out with drinking smoking buddies who may be a tad envious of your quit, and who, while drinking also have their inhibitions lowered that may manifest in behaviours of encouragement of your smoking at a time when you are more vulnerable.
Soon you will be able to face these environments too, but work your way their gradually, breaking some of the association and intimidation factors in the safer controlled environments. The fact is though, for the rest of your life you will need to keep your guard up, in a sense reminding yourself of your reason for having quit and the importance to stay off smoking everytime before you go drinking. It prepares you to face the situation in a much safer state of readiness.
One special note I need to make here. When I say everything you do as a smoker, you can do as an ex-smoker, the reverse is also true for some activities. If you were a recovering addict to alcohol or any other substance before, you couldn't use that substance as a smoker and you can't as an ex-smoker either without a full blown relapse.
There are some things you may be able to do now that you couldn't do before due to physical limitations posed by smoking. You may find that you are capable of doing activities that you gave up years ago because you were too old to do them or they hurt when you tried, and now, without smoking limiting you physically, you may find you will recapture activities you lost in your youth. This is great when it happens. But again, use of a substance you had a known problem with in the past is still an issue as an ex-smoker and will be for the rest of your life.
So anyway, use your own timetable that you are comfortable with, but the sooner you prove to yourself that life goes on without smoking, the sooner the concept of life after cigarette will become less intimidating and actually welcomed. Just start out gradually and in the case of alcohol, in a little bit of a safer more controlled environment and fashion.
The way to learn to do everything though is to gradually do everything while always remembering to never take another puff!
Joel
Last edited by
John (Gold)
on August 21st, 2009, 9:19 pm, edited 1 time in total.
---


Be very very careful during early recovery. Within a couple of weeks you'll do fine but getting intoxicated while still in early withdawal, while badly craving nicotine, is not an intelligent move. Break it down into baby steps. Remember, you can always walk away.

This is your gift to you. Protect it above all else as your health and very likely your life are depending 100% upon you! There's only one rule - no nicotine today. The next few minutes are all that ever matter and each is entirely doable. We'll all be with you in spirit. Breathe deep, hug hard, live long! John (Gold x5)

---
This is interesting for me to read since I already nearly made this mistake. Day 2 for me was New Years Eve in a pub with smoker friends. The good news is I survived. But I do not recommend it though. It hurt and I could just as easily stepped over the edge and committed slow suicide with one puff.
---
I'm a new quitter who, since quitting, has enjoyed occasional drinks at home and even more over the holidays!
I had no problems at all but I certainly wouldn't want to be in a smoke filled bar. Or any smoke filled room for that matter.
I also have a few drinking buddies. We tend to have a couple of beers at home and all are 'neversmokers.'
But I would definitely agree with this advice. You don't want to get bombed around smokers.
Philip (Day 23)
---
Awesome thread, I have to comment: This was one of my biggest fears when I quit, I thought, "How in the
WORLD
am I ever going be able to go out again???!!!" You see, I was and am a "party-type"...heck, I plan parties/events for a living pretty much and am always out and about. I always associated going out and good times, with smokes. So as you can imagine,
I was petrified
! Then I thought about it...I knew I wanted to quit, I was done, I had my "
come-to-Jesus moment
" and nothing was going to make me
EVER
take another puff.
Soooo...the game was on, it was me versus the cigarette, and I'm competitive person and wasn't about to let that ugly litter sucka win.
So 3 days into my quit, I was meeting with colleagues at a bar to discuss a trade show (several of them are smokers) we had beers, they smoked, I didn't. That was the toughest thing I ever did, especially after 6 beers. But I didn't break. And woke up the next moring with a feeling of "proud" I've never felt before. Also, I didn't have the "smoke-over".
I continued to go out to happy hours and different bars and dinner parties and still do. I
REFUSE
to let this addiciton keep me away from going places and doing things I like. Some times are harder than others, but all in all, I've made myself very proud. I make a decision each and every day, that I will NEVER TAKE ANOTHER PUFF! It's a daily battle and daily decision. And that's that.....but everyone is different and that's just my story and my way of coping.
I will admit that smokey bars are not ideal
and I pick and choose where I go now more selectively. The smoke really gets to me now and I hate going home smelling like a cigarette, yuck!
I will be
GREEN
tomorrow, hooray! And in those 30 day's I've been in about 10 different alcohol/bar situitations. Some easier than others, but never-the-less I survived and made the decison I wasn't going to let the cigarette win. I would imagine how bad I felt after just a dream that I smoked, so I do not want to feel that way, it's awful. Not only that, I looked at it like, if I can make it thru that, I can do anything b/c that's generally when I smoked, I was a VERY social smoker.
Anyway, that's my story and felt compelled to share. Best of luck to all of you in your quits and to the lurkers, you can do it, find
FREEDOM
, it's so sweet!
Judi -
ALMOST GREEN!
I have been nicotine free for 4 Weeks, 1 Day, 18 hours, 26 minutes and 25 seconds (29 days). I have saved $47.62 by not smoking 238 cigarettes. I have saved 19 hours and 50 minutes of my life. My Quit Date: 01/04/2006 10:00 PM
---
Judi,
I very much enjoyed your very good, honest, straight-forward sharing of your experience. Very insightful. We each must determine what our level of control is and can be.
My experience has been very similar. I set out to get rid of something I did not want in my life any longer - Tobacco Cigarettes. I found it easier still when I realized it was nicotine I was getting rid of - the cigarettes were the delivery vehicle and the tobacco was the medium.
Try replacing the word "cigarette" with nicotine
&
Another slant on how to watch people smoke
were two quit builder articles for me early on that allowed me to see what those 'smokers' were really doing and why drinking alcohol makes consumption of those nicotine delivery devices rise when alcohol in introduced into our blood serum chemistry.
In my view, it seems when you break addiction down to its barest basics, we win through controlling our personal blood serum chemistry and using our mind's power to clearly see that living nicotine clean is the way were were designed to be.
It is Knowledge that gives us the Power to arrest our addictive behaviors. We use knowledge and self-determination to exercise our Freedom of Choice. We each have the power within us to turn information into action and live as we were meant to be, nicotine free.
JoeJ Free - NicotineFree and Living as I was meant to be for One Year, Twenty Four Days, 7 Hours and 42 Minutes, while reclaiming 33 Days and 19 Hours,
by choosing not to use 9733 nicotine delivery devices that would have cost me $1,953.36
NTAP!
Last edited by
JoeJFree Gold
on April 12th, 2009, 7:05 am, edited 1 time in total.
---
Next to dealing with my quit and morning coffee- this was my number 2 danger trigger. The morning coffee has been bearable, at first simply because there are no ciggys available to smoke. Having a drink at home is the same- much easier when they are not at hand! A bar, club or pub is quite different. Here are some of the things that have helped me thru my first few times out:
Have a nice talk with yourself BEFORE you go out to reinforce your strength (reread whatever you consider to be your most motivational threads, link or info). Tell yourself that if you're going to get drunk, it will NOT affect your resolve in your quit. I wrote down the names of those that lost their battle with nictoine and kept them in my pocket.
Tell everyone you're with and everyone you meet that you just quit and how PROUD you are of yourself. I find most people I know will support a quitter and won't let you bum one.
Keep your reasons for quitting with you. If you feel weak, go to the bathroom, read the list then look yourself in the mirror (as you're washing your hands).
Try volunteering to be the designated driver. It fits in perfectly to practice your quit in a bar once or twice, and your friends will love it!
To thine own self be true. If you know it's going to be unbearable, then simply don't go. You won't die if you stay away from the bar for a few weeks.
Also, just not drinking for a night or so works too. I have to admit, I rasied some eyebrows when I ordered an iced tea (no, not a long island) for the first few weeks. Even impressed them more!
If you feel yourself weakening - go to the restroom and look yourself in the mirror OR go outside for some fresh air! FEEL how good fresh air feels.
Don't dwell on the smokers, observe the NON smokers. Take their lead - not smoking and having a good time. They can do it, so can you!
Here's one that may not make you popular, but it worked for me. Talk and talk and talk about the facts, whyquit, etc.
Well, I hope one of these help one of you partiers out there. What helps me the most is my dedication to NTAP - these are a close second.
---
I highly recommend no alcoholic beverages the first week. It's true about your inhibitions with alcohol. You might just not care. I've been enjoying wine in the evenings and it actually helps me to relax from white knuckling all day!!!! I haven't ventured out to a bar yet but in my state smoking anywhere is forbidden so it shouldn't be too hard.


Kristin

I have been quit for 1 Week, 4 Days, 16 hours, 52 minutes and 15 seconds (11 days). I have saved $58.51 by not smoking 292 cigarettes. I have saved 1 Day and 20 minutes of my life. My Quit Date: 5/1/2006 12:00 AM
Last edited by
4Taylor
on June 17th, 2011, 1:21 pm, edited 1 time in total.
---
Joined: January 16th, 2003, 8:00 am
From above:
The odds of a brand new quit surviving the pub or bar scene while consuming large quantities of alcohol are not promising!
Walking into an environment loaded with ashtrays, lighters and packs everywhere in a smoke and smoker filled room, while consuming a mind and sense altering substance during a temporary period of time that you were giving it your all not to smoke nicotine can be a tragic mistake, even fatal.
Although alcohol has been found to play a role in half of all fatal vehicle collisions, its death toll in relation to the destruction of quits is even greater.
My advice is simple! Think it though, plan ahead, keep your guard up, and always remember that you can walk away.
---
I went out last night and had a few drinks with a friend who smokes. I have to say that since they have changed the law here (no-smoking inside) it sure made it easier not to fixate on wanting a nic fix when there isn't anyone around smoking. So all in all I made it through the night with out wanting one...Danielle
I have been quit for 1 Week, 2 Days, 20 hours, 23 minutes and 38 seconds (9 days). I have saved $35.45 by not smoking 147 cigarettes. I have saved 12 hours and 15 minutes of my life. My Quit Date: 9/6/2006 10:15 PM
---
Good article. I've been free for 15 days and I haven't braved a single drink yet. It is probably my greatest fear because alcohol has ruined 100% of my past quits. I can recall at least 6 drunken smokes that ended quits ranging from between 2 weeks and 12 months. I've considered quitting drinking altogether, but I don't want to tie smoking to drinking in my mind so that I automatically pick up one when I pick up the other.

When I feel ready to drink again, I'm going to give it a few practice runs at home away from the temptations that a bar brings with it. I've never been more determined to NTAP and when it comes down to it that is the most important thing!
---
Alcohol and nicotine used to be one of my favorite combinations and drinking and smoking at bars was a common pastime. One easier part of my quit is the fact that smoking is no longer allowed in bars here in Washington state. One must go outside and it is cold and wet this time of year. Walking "through the smokers" into a smokefree bar used to be somewhat painful but now has become a pleasure. Making smoking unallowed/illegal in most public places has been one of my incentives to quit and to stay quit. Smoke none, drink less, live longer!!!
---
I had not smoked for around 9 months and on Valentine's Day I drank WAY too much and on the way home, at about 2am, I decided I needed to smoke. I also thought in my inebriated state that the nicotine wouldn't effect me. I would probably wake up and not even remember that I had smoked the night before.

Five years later...here I am quitting again.

So I read this post and I understand. I knew that I couldn't just have one cigarette. If I had been sober I would never have made such a ridiculous decision to reintroduce nicotine in my system.

So if you do decide to drink just make sure you have armed yourself with knowledge and maybe moderate the amount you consume. That is what I have chosen. I keep it to 2 and I know that I will never have drank so much that it will change my decision making capabilities.

Tracy - Free and Healing for Twenty Eight Days, 19 Hours and 10 Minutes.
It isn't always easy, but it is always simple.
Never take another puff or dip!
---
I've never been a heavy drinker, just an occasional glass of wine or a beer now and then. Shortly after I quit and shortly after becoming a member of Freedom I went to a birthday party at a club. I became snockered but by gosh I didn't smoke. There were people all around me puffing away but I'd just drink some more and hang in there. I kept pretending that I was on a hidden camera and all my friends at Freedom were watching me.

I learned real quick that I couldn't handle the combination of alcohol and nicotine at that time in my quit so I put the alcohol on the back burner until I got a little more time behind me. In the past when I drank it seemed I smoked more so the two became another personal vice.
---
Joined: January 16th, 2003, 8:00 am
Last edited by
Sal GOLD.ffn
on April 12th, 2009, 7:07 am, edited 1 time in total.
---
In my particular situation, alcohol has not been a noticeable problem in my quit. People light up around me and I have virtually no desire to imitate them. I'm pleased that I've got all this time under my belt as a non-smoker (not ex-addict); I'm pleased not to be hawking up phlegm from way down in a scary depth of my respiratory system; I'm able to excuse occasional impulse buys as the benefit of not spending $8.00-$10.00 a day for cigarettes; I'm able to be a proud member of Freedom with full integrity (I haven't so much as picked up or stuck a cigarette in my mouth since April 22nd, 2008).

Somehow, nicotine just isn't important to me anymore.
---
How timely for me!

I had a few cocktails last night. I waited until I was 2 weeks into my quit because I was afraid of having diminished inhibitions and judgment early in my quit. I was also worried that smoking and drinking might be a package deal in my head.

I was worried but I kept saying to myself "Don't worry, you're just learning how to do this without smoking... Look at all the stuff that you learned to do these last few weeks - this is going to be okay too.".

To my surprise, it wasn't a problem. I got that warm, fuzzy cocktail feeling without covering myself with a gross yellow film. I was nice to wake up this morning without tightness in my chest from chain smoking while drinking.
---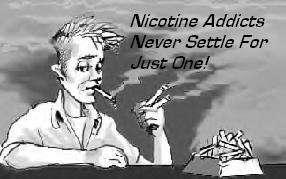 ---