Camp Searchlight: The Firehouse
: My Life, My Decisions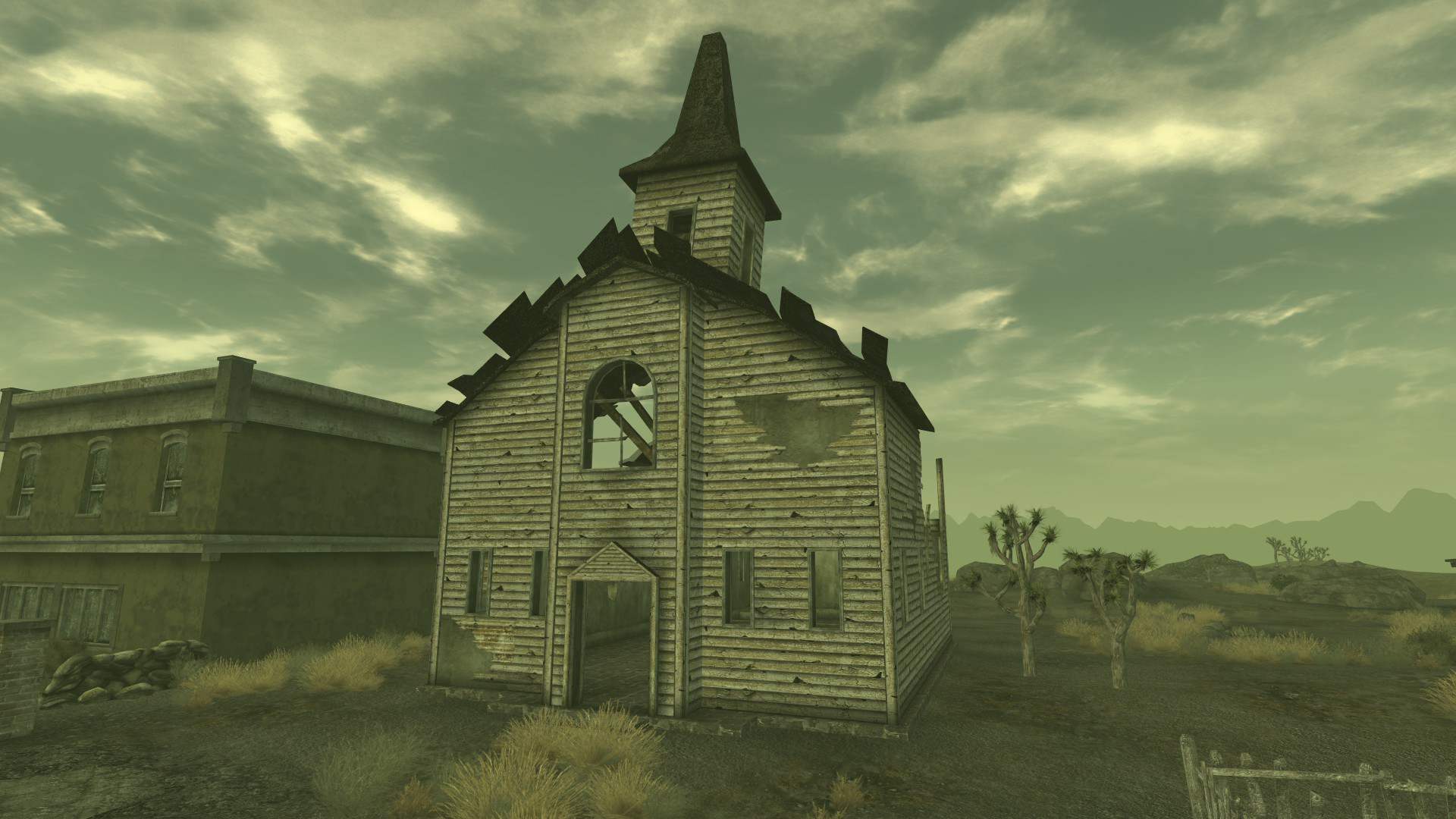 Recap
:
Upon arriving in Searchlight, Yuudai watched as Grunthor was brought into the Zoo. He was quickly brought inside, treated by Chief Warrant Officer Gaynes and then left with Wykes to the Fire House to discuss what happened on the road. Arriving, she shares about other issues that had been happening around Searchlight as of late…
With the rumble of the road quieting, Wykes looked over at Yuudai- she was still untrusting, but otherwise friendly as he walked in front of the truck. Nothing overly interesting had happened on the road. It appeared the danger had passed. "This is Camp Searchlight, the Western Church- we nicknamed it the Zoo." Pointing out at the chapel, it was in relatively good condition. Wooden planks recently painted, the roof repaired well enough to keep out the rain. But the presence of dozens of cages with creatures of all sorts raised Yuudai's attention. Six rad scorpions, nine mutated hounds, thirteen coyotes and even a super mutant standing in perfect silence as they rolled in front. "These little terrors are how the NCR plans on handling the Brotherhood of Steel. Let these creatures go first, do as much damage as they can and then follow it up with troopers." Wykes grinned as she spoke, running one hand through her hair. "I don't have a clue how they do it, and I don't want to. But it works, it makes these little monsters real quiet and compliant."
Stepping out of the truck, he barely caught what Wykes was saying to the others before noticing the butt of the sledgehammer coming down on Grunthor's face over and over again from the rearview mirror. Coming out, the green skinned man was utterly out of it but still breathing. The soldier let out a whistle, as a woman appeared. She looked perhaps forty, with black hair in a braid with strands of grey mixed in. She had an exhausted expression, which matched the insignia on her clothes: Chief Warrant Officer Gaynes, NCR Recon. "Another of Corporal Reiner's quarry?" she asked with arms crossed. A few seconds later, three robots floated out toward the truck. They were white, round at the top. They reminded him of those machines they fought at the crashed vertibird. But each one was smaller than those had been, and had NCR isnignias painted across their sides.
They quickly detached Grunthor, placed him on a pair of gurneys and then rolled him deeper into the facility as the "people" talked. The Chief Warrant Officer walked over to the truck to inspect the mutant. She quickly noticed the blood on his face, and made the connection to the sledgehammer in the Corporal's hands. "You realize we have enough sedatives to place a behemoth into stasis at this facility. Such brutality is unneeded."
"Better to save that for something more important." Wykes mouthed off, before quickly adding "Ma'am" at the end as if it made it sound any better.
"Corporal, you are dismissed. I will deal with the rest of the transfer myself." She had a harsh tone, but then her attention shifted to the outsiders. "And who exactly are these people?"
Quickly Wykes spoke up. "Survivors from an attack east of here. Warrant Officer Hyde admitted them to the Camp for resupply and healing, if you'd be willing ma'am."
"Most of you seem… well enough." The older woman went inside, and a few minutes later emerged with a doctor's bag, a few pill bottles and some device that made beeping noises. She went person to person, in an assembly line. Yuudai was first. She looked over his injuries, popped out a handful of pills into the man's hand, and gave him a shot to the upper arm. "Take these with food and maybe something strong to drink for the pain. Sleep it off, and in the morning you should be fine."
She appeared to say something similar to Denise and Katie. There was a small conversation with some pointing to the gecko from before, not that it mattered much to Yuudai. Wykes quickly had walked over, looked him in the eye and said "Don't say a word about what happened on the road. Not until we get it reported." It wasn't until Gaynes reached Tammy that his attention shifted back to medical treatment. Instead of everyone elses' examinations, which had been barely a glance and then some pills to go, she took her time. Tammy's swelling was getting a little better, but the bruises had fully come out. Bright purple swatches across her face, torso and arm clashed with her pale white skin. But worst of all was her eye. As soon as Gaynes took the bandages away, her face contorted and she put the bandages back. Shaking her head, she sighed "Please go inside, and perhaps we can treat your wounds. I hope you understand this may not succeed."
"I understand" was all Tammy could say, as she looked over at the group. Walking over, she gave Denise a hug and whispered something to her. Looking over at Yuudai, she smiled saying "Thank you for everything you have done." Then started limping toward the chapel doors. As she was sent inside, Yuudai tried to follow he was met by the Chief Warrant Officer before he caught up to the woman. "You are not authorized for entry. In truth, neither is she but… her eye is… perhaps too foregone for me to treat. I'll let her try using the
autodoc
inside, perhaps it can restore it. Or at least remove it safely if not. Her wounds were severe, you were lucky to have gotten her here soon enough."
Wykes turned and grinned, "Want to come back to my place?" Waiting for Yuudai's eventual confused expression she explained, "The Firehouse. Me and that bad bitch Morris I was talking about run the place. It's a mess hall for enlisted. Best food, beds and only entertainment in Searchlight." Walking over to the truck, she leaned against it with one elbow. By then, the robots had returned, and injected the super mutant hound with some sort of injection. It let out a small howl, before snoring loudly. They lifted the creature, placing it onto a gurney and started the same trip as they had done to Grunthor a few minutes before. "Chief Bitchy Pants said that you needed food with those pills right? I'm more than happy to give you a ride and empty your pockets a bit since you'll need to sleep after taking them."
Taking in a deep breath, Wykes whispered "And I want to know exactly what the hell happened out there before I make a report. At least there, we can talk without raising any suspicion."