FUGITOID #1 (Summer 1985)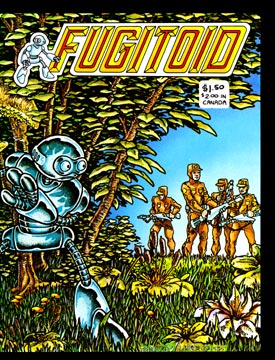 (The front cover inside page has a letter for the readers, signed by Eastman and Laird, detailing the origins of the "Fugitoid" character. He actually predates the TMNT by several months, and was part of a 5 chapter story that was shopped around to publishers, unsuccessfully. The saga, and other short stories, would be used in a small run of self-printed comics known as "Gobbledygook". They also seem pleased to let us know that starting with the Fugitoid, all Mirage Comics will feature FULL COLOR covers. The last line seems to be fishing for support, promising a Fugitoid #2 if it draws the desired reaction… and no, there is no Fugitoid #2. The Fugitoid character must've been featured at least once in the 1987 animated series, since I recall (and have sitting in front of me) a Fugitoid PlayMates action figure, although with a slightly different design… and with that LONG winded introduction out of the way, lets dive into the issue!)
Side Note: This is a larger-than-normal printing, resembling the size of a common magazine, rather than the standard comic book size. OK, NOW we're jumping in…
Chapter 1: We're immediately introduced to Dr. Honeycut, who is quickly interrupted via video call (insert modern technology joke). General Blanque admonishes him for not producing the results expected for him, or the courtesy of filling out his annual reports. Honeycut doesn't take the interruption well, and bemoans the idea of his inventions being weapons. Meanwhile, a robot worker named Sal is doing yard work, and Honeycut expresses desire to be just like that, without the pressure of his profession. He hooks up a device called "Mentawave" that allows him to move physical objects with his mind. Before he can remove the head piece, he sees Sal struggling in weeds. A storm begins, and lightning strikes Honeycut and Sal!
Chapter 2: Honeycut drags himself back into his laboratory, only to find his mind has been transferred into the body of Sal. Shortly after, Gen. Blanque arrives, and along with his men, discovers the charred remains of the former Dr. Honeycut, and robot tracks that lead them to Sal. Without so much as an investigation, they open fire on Sal/Honeycut, who makes his escape into the nearby woods.
Chapter 3: Blanque sends two of his men after the robot while he investigates the ransacked laboratory. He comes across a recording device that had been left on, and here's Honeycut's exposition about having his mind transferred into the robot. Blanque sees this as an opportunity to use Honeycut for all his desires, and with no hesitation, because robots are looked down upon in this civilization. The new orders are to capture, not destroy, the robot. Honeycut comes across several large rock-like looking piles, only to discover one moves, and turns out to be a giant crab-like monster.
Chapter 4: Blanque's man give up on their search, and we discover the crustaceans are friendly, and could sense Honeycut's distress. They inform him of a safer city called Peblak, and a junkyard nearby that will block the sensor's that could lead Blanque and his troops to his whereabouts. Blanque departs (after repeatedly calling Honeycut "The Fugitoid" a couple of times) and continues to dictate his plans to build a Transmat that will lead to victory against "the cursed" Triceraton Republic, and his own personal glory.
Chapter 5: The Fugitoid/Honeycut makes his way through the junkyard, only he's not alone. He's snared by scavengers and taken to Peblak. Meanwhile, Blanque informs his trusted assistant, Lonae, of his plans.
Chapter 6: Honeycut is removed from his transport, in the middle of a busy market place, and put up for auction. He's eventually sold to a human for 3,100 credits, and "hopefully he does windows, haw haw". Lonae arrives in a dank part of Peblak, meeting a shadowed figure. He holds the cure to an unknown disease over her head, forcing her to sell her Government's secrets for the dosage. If she is unwilling to comply, she will die, and the chapter ends with a full-page illustration of a large creature with the head of a Triceratops.
Chapter 7: Dr. Honeycut ditches his human owner and makes a run for it, while the Triceraton leader dictates to his assistant the same goal as Gen. Blanque, except with the desire to destroy his federation, instead. The Triceraton reveals he's poisoned Lonae's drugs, leading to her certain death, and vaporizes his assistant, knowing only the Triceraton race can be trusted with the information. Back to Honeycut, he's finally cornered in an alley with no escape, only for the familiar figures of four Teenage Mutant Ninja Turtles to materialize, and we're left with a cliffhanger, to be continued in TMNT #5.
As a stand-alone saga, I thought this could have potential. The title character (or insult, take your pick) is trapped between two sides of a war between the Triceratons and what is assumed to be a Human military. Unfortunately, throwing them all into the mix as a way to advance the Ninja Turtles saga means Fugitoid #2 isn't really happening as long as they make this part of the TMNT canon, and when it's over, what's left? You could say based in a futuristic setting, there's plenty of room to explore, but as we'll find out, they wrap things up nicely and leave the entire Triceraton Federation and Fugitoid with a satisfying conclusion. All work is done by Kevin Eastman and Peter Laird, and you'll notice the illustration closely resembling the work in their partnership in the first dozen or so issues of TMNT. Most of the panels, and even the larger scale images, are well detailed and there's a lot of stuff going on. Since it stands on it's own feet (until continuing in TMNT #5), and is roughly a $5-6 comic, it's a good read.
[The entire saga of the Fugitoid would be used in Season 2 of the 2003 animated series, and it stays mostly faithful to the source material. I'm also not finding anything about Fugitoid being in the original cartoon, so maybe they took the character and tweaked it a bit to give it a more colorful presentation.]