Eeyoh enloh!
Welcome all!
Within this Data-Node lies the data on the planet Aios, home of the Aionian people, a race of invertebrate humanoids. However, the Aion are not the only sentient life on Aios. No, there are others, for instance, there is a small Terran colony south of the Science and Knowledge Quarter in Angel City. Or. as the Aion would put it; Chi Eoserromii.
Feel free to discuss matters of interaction between Terrans, and the Aionian, as well as the rise and fall of both famous, and infamous Terran and Aionian figures. Such as the great explorer Candridge Kaihn who discovered Teldesa and 20% of the Flora and Fauna that live there, such as Kaihn's Mongeaar, among others.
(I will add more profiles as I write them.)
Mammalidae
(Updated with
Tarmetidae
Family and
Scarmetinae
Subfamily.)
Mongeaaridae
Mongeaar are small Mammalids from Aios, that can range in size from that of Terran Ferrets, to large, Badger-sized animals, Mongeaar also have varying diets, depending on where it lives, and sometimes will completely change their food sources if their usual prey is scarce, some Mongeaar even feed on plant material. Most Mongeaar will not stray far from their home territory, which in most species is somewhere up in the temperate highlands found on Teldesa's big Island, Undwin.
Greater Mongeaar
Mongeaar maiorem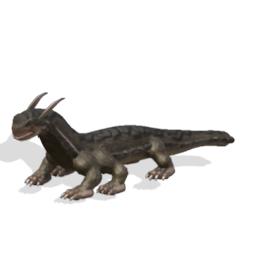 Greater Mongeaar are the largest species of Mongeaar, some growing up to three feet in length. Greater Mongeaar feed on small scaled creatures, and sometimes will go after small Muggfish Species that live in rivers and streams around it's home territory. Greater Mongeaar are found Exclusively on Undwin.
Status: Endangered
Habitat: Old-growth Temperate Highlands
Preferred Shelter: Burrows
Saymin Mongeaar
Mongeaar dolor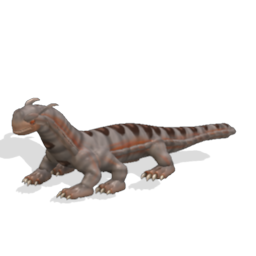 Saymin Mongeaar are a species of specialized fishing Mongeaar, The largest known specimen of this species was found at two feet long. Saymin Mongeaar feed almost exclusively on Saymin found in lakes and rivers near to it's den, but will settle for Moor Congetiy.
Status: Endangered
Habitat: Old-growth Temperate Highlands
Preferred Shelter: Dens
Golden Mongeaar
Mongeaar aurea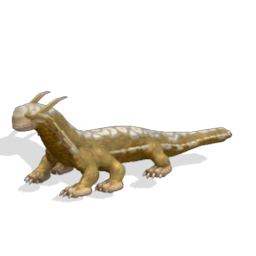 Golden Mongeaar are an average sized species, for Mongeaar, some growing up to 1.5 feet in length. A Golden Mongeaar's diet is mostly like Terran "insectivores", but they do also feed on the tough grass-like flora found out in the temperate highland meadows it make's it's home. Golden Mongeaar may be a protected species, but that doesn't stop the other native races from hunting these small Mammalids for their fur. The Aion have tried to stop this needless hunting, but the natives have paid no attention to their efforts.
Status: Endangered
Habitat: Temperate Highland Meadows
Preferred Shelter: Dug-out nests
Tree Mongeaar
Mongeaar arboreus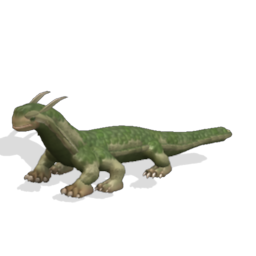 Tree Mongeaar are one of the only arboreal species Mongeaar in the northern hemisphere. A Tree Mongeaar's diet is comprised of small invertebrates, Fungi, sometimes young Keer fledglings, and eggs they find up in the canopy of their leafy homes. Tree Mongeaar often live in family groups of six or seven, depending on the size of their nest inside the "Home-Tree". Strange for Mongeaar, Tree Mongy's reach sexual maturity at the age of five, much unlike most other species which achieve this at the age of seven.
Status: Endangered
Habitat: Canopies in the Temperate Highlands
Preferred Shelter: Tree hollows
Dusky Mongeaar
Mongeaar ferrugineo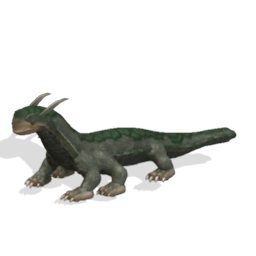 Dusky Mongeaar are sometimes mistaken for melanistic Tree Mongeaar, but of course, are not, as they lack the opposable fifth toe that Tree Mongeaar have. Dusky Mongeaar feed mostly on Reedfish, small invertebrates resembling Terran lobsters and scorpions, but will also chase after Platecrocs, armored relatives of the poison-spined Spinegators. Dusky Mongeaar often live in family groups like Tree Mongeaar, but the family can grow up to a size of twelve individuals, each helping the "village", depending on what tasks are needed to be done, pups are given to experienced adults to teach them, what is taught depends on what the individual's job is. Also like Tree Mongy's, Dusky's reach sexual maturity at the age of five, but only the healthiest males are allowed to breed.
Status: Vulnerable
Habitat: Usually around exposed hill-sides or clay walls in the Temperate Highlands
Preferred Shelter: Subterranean "Mongeaar Villages"
Black Mongeaar
Mongeaar lorem
Black Mongeaar are one of the few species of Mongeaar discovered that are nocturnal. A Black Mongeaar's usual diet depends on it's location, and what time of night at which it decides to wake up. Black Mongeaar live in family groups of up to four, but females usually have litters of up to eight pups, but once grown, the strongest and Healthiest are sent off to start their own families, while those still not strong enough stay at the nest until they are strong enough to leave. One major thing that differentiates Black Mongeaar from any other northern species, is the presence of pheromone glands, which are used to mask the creature's scent while hunting.
Status: Unknown
Habitat: Temperate Lowlands
Preferred Shelter: Underground Nest
Longnosed Mongeaar
Mongeaar rostrumdiu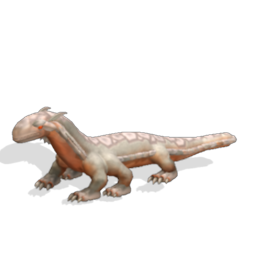 Longnosed Mongeaar are the only species of Mongeaar discovered in which the Females hunt during the day, and the Males hunt at night, but every year, the jobs switch, then the Males will hunt during the day, and the Females will hunt at night. The Longnosed Mongeaar's diet in the summer consists of larvae, fruits, small Reptotheres, and if they're lucky, Lumaphores. During the Winter, when the Longnosed Mongeaar is out on the Ice Fields, it's diet consists of Northern Smalljaw, Northern Arctalopes, and Taigu. Longnosed Mongeaar pair for life, but do not live in family groups, once the pups reach the age of five, the parents send them off. Sadly, because of the aggressive nature and it's diet, the Longnosed Mongeaar often gets into conflict with the tribal natives, who also value it's white coat, and use it to make hunting garbs, so as to camouflage them against the snow.
Status: Critically Endangered
Habitat: Winter: North Saien Ice Fields / Summer: North Saien Taiga
Preferred Shelter: Ice Den
Pinnalacertum
Pinnalacertum contains both the Sealaines and the Walatees, marine mammalids that spend much of their time in the water. However, the Walatees are completely aquatic.
Sealainiae
Walatumiae
Walatees are large, completely aquatic, relatives of Sealaines. Most Walatees live along tropical and subtropical coastlines, and feed on Seaferns and other aquatic plant life, but some will go after bottom-dwelling Diports, and Cerastaceans.
Largetooth Walatee
Walatumia magnadentem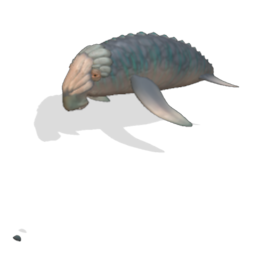 Largetooth Walatees live in the subtropical seas around , feeding on it's native diports an some sea slimes.
Status: Endangered
Habitat: The sub-tropical waters between Eastern Caradon, the Southern Bermalo Islands, around Tuaben Island, and Northern Tuaben.
Preferred Shelter: Largetooth Walatees are free-swimming, solitary animals.
Tarmetidae
Tarmets are a diverse family of Mammalids from Aios, that have varying diets, depending on where it lives, as well, Tarmets can range in size from around the size of Terran Weasels, to large behemoths the size of the Terran Giant Otters. Some Tarmets have even formed a subfamily known as Scarmets. Most Tarmets are both Arboreal and Terrestrial, and unlike the Scarmets, are fairly territorial, with territories spanning huge parts of their habitat, some reaching four klicks!
Scarmetinae
Scarmets are a subfamily of Tarmets. Scarmets can range in size from around the size of Terran Otters, to large behemoths the size of Terran Alligators. Most Scarmets are mostly marine-oriented animals, designed for quick chased underwater, but are still fairly agile on land, and unlike the Tarmets, they can hold their breath for seven Aiosian hours and are not territorial in the slightest. Other differences between Tarmets and Scarmets, is the Bioluminescent organ at the tip of their tails. In Tarmets, this organ is rather large, and bulbous, while in Scarmets, it tapers down to a point, reducing drag in the water, and is often brighter, allowing the Scarmet to see in darker waters. The other difference, is also in the tail. While Tarmets can move their tails, Scarmet's tails are more flexible very much so prehensile, in fact, they are so flexible, they can arc their tail over or under themselves and use it like a spotlight to help it see in darker waters, and due to the ability of being brighter, the Scarmet can flash the organ at full brightness to stun it's prey.
White-legged Scarmet
Scarmeta albupeda
The White-legged Scarmet is one of the smallest of all Scarmets at only three feet in length. White-legged Scarmets live in and around freshwater lakes deep within forested areas, feeding mostly on small invertebrates, Muggfish, and Silversides. Their name comes from their white legs. Many biologists are fascinated with the unusual violet glow of the White-legged Scarmet's bioluminescent organs.
Status: Vulnerable
Habitat: Freshwater Lakes, Temperate/Boreal
Preferred Shelter: Nest dug into side of the lake bed, entrance below the surface. Hidden access point above water.
Giant Scarmet
Scarmeta gigantus
The Giant Scarmet is the Largest of all Scarmets living today, at a range of up to eight feet in length, the Largest,
Scarmeta imperator
, form Aios' Early Miocene, could reach lengths of up to thirteen feet. Giant Scarmets preffer to live near large bodys of slow-flowing freshwater, but will live in lakes, rivers, and slow pools. Giant's feed mostly on Chromlesk, Muggfish, Fintails, and Silversides. Indigenous tribes fear them, and have given them the name 'Nindi Tanzii', roughly translated as 'River Shadow'.
Status: Lower Risk
Habitat: Freshwater Lakes, Rivers, Streams, and Pools.
Preferred Shelter: Family Nest
Scarmesaliae
Sea Scarmets are a Genus of Scarmets known for their ability to survive in saltwater, while other Scarmets cannot.
Drifter's Sea Scarmet
Scarmesalis truduntae
The Drifter's Sea Scarmet is a member of the Genus Scarmesaliae. Drifter's Scarmets live in and around bays, coves, and coastlines, feeding mostly on Muckleshells, Baitmugg, Boruburas, assorted Highhats, and the dangerous White-striped Octelesk. Their name comes from their habit of drifting on their backs, however, this habit does
not
mean they are push-overs, as soon as prey is spotted, the Drifter jets off like a rocket in pursuit. Many biologists are fascinated with the Drifter's unusual mating call; a sound which is resemblant of 'Giterdun'.
Status: Endangered
Habitat: Bays, Coves, and Coastlines
Preferred Shelter: Sailweed Mats, and Sea Caves
Reptothereidae
Arcemitestidae
Arcemitestids are a diverse group of Aiosian Reptotheres that come in four groups, Terragigas, or Macro Tortids; and Terramicrus, or Pygmy Tortids; Monoversis, or Mantellas; and Divisaversis, or Manatles. Many of them resemble Terra's Turtles and Tortoises.
Terragigas
Garotortus
Terragigas porcusi
Garotortus are large herbivorous beasts from Bisnod. Though it may resemble a Terran Tortoise, it' biology
would
actually put it more closely related to Terran Ankylosaurs. Garotortus spend most of their lives wandering the hidden Lychun Plains of Bisnod, grazing, and in the rutting season, wrestling for dominance and who gets to mate with the females in the pod.
Status: Unknown
Habitat: Lychun Plains
Preferred Shelter: Nomadic; Pod sleeps together in a huddle after dark.
Divisaversis
O'hair's Manatle
Divisaversis ohairensis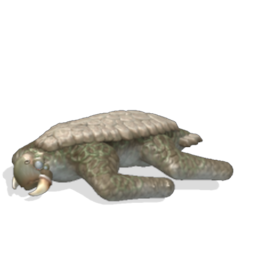 O'hair's Manatle, or the Giant Manatle, is a large omnivorous species of the genus divisaversis, that live in the southern Baltican Sea. However, they don't spend all their time in the water, and breed on land. These breeding grounds are located along the East Coast of Tuaben, and the West Coast of Southern Bismes. O'hair's Manatles breed at the point where winter turns to spring.
Status: Endangered
Habitat: Baltican Sea
Preferred Shelter: Keerpimple Mats, Reefs, Protected Coves, and Sea Caves
Aimore's Manatle
Divisaversis aimorensis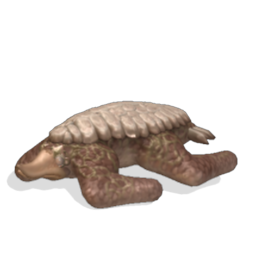 Aimore's Manatle, or the Red Dwarf Manatle, is a small omnivorous member of the genus divisaversis that lives in Bisnod's Redstone River Valley. The feed on numerous kinds of vegetable matter, as well as fruits, and nuts that fall into the water, whereas their favorite prey, are the very tiny, Ghost Purron. However, like many of the other Manatles, they don't spend all their time in the water, and breed on the northern banks of the river in the peak of summer.
Status: Endangered
Habitat: Redstone River Valley
Preferred Shelter: Riverside burrows, snagweed beds, and sometimes Aimore's Manatles will even sleep on the riverbed for an hour or two.
Galeatolutidae
Manoboar
Galeatolutious saevus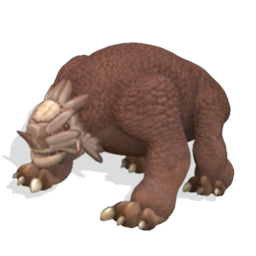 ♂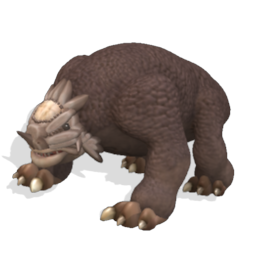 ♀

Rutting Season;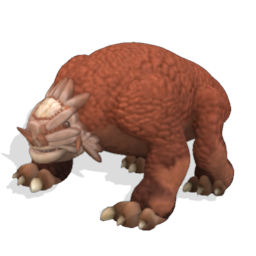 ♂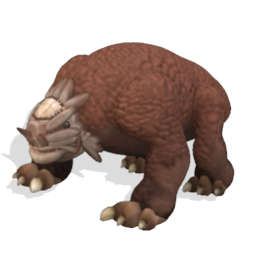 ♀

Manoboars are native to Bisnod's southern savannahs. A few childish humans once tried to hack the Terran's record-keeping system and replace it's Scientific name with 'Manus Bearus Pigs', however, the records keeper didn't find it as enteratining as they did, so he had them deported to the Terran Colony on Titan. Manoboar are Scavengers by nature, but won't turn down making a fresh kill if food is scarce. Manoboar are usually Solitary animals, only coming together to breed, then the males leave the females to raise the developing calves.

Status: Vulnerable
Habitat: Southern Bisnodic Savannahs
Preferred Shelter: Manoboar are fine with just sleeping among the bushes when night falls. However, females with young tend to den in the few rocky kopjes that can be found scattered in the more tree-lined areas.
Current Classification terms;
Kingdom: Animus
Phylum: Nervidenudabunta
Class: Mammalids, Reptothereidae
Order: Quattuorarmati
Family: Mongeaaridae, Tarmetidae, Pinnalacertum, Arcemitestidae, Galeatolutidae
Subfamily: Scarmetinae
Genus: Mongeaar, Scarmeta, Sealainiae, Walatumiae, Terragigas, Divisaversis, Monoversis, Galeatolutious
Subgenus: Scarmesalis, Terramicrus
Species: Mongeaar maiorem, Mongeaar dolor, Mongeaar aurea, Mongeaar arboreus, Mongeaar ferrugineo, Mongeaar lorem, Mongeaar rostrumdiu, Mongeaar seigfordensis, Mongeaar falakródérma, Mongeaar aómmatos, Mongeaar spílaioénoikos, Mongeaar ptychídérma Scarmeta albupeda, Scarmeta gigantus, Scarmeta bismersi, Scarmesalis truduntae, Walatumia magnadentem, Terragigas porcusi, Divisaversis ohairensis, Divisaversis aimorensis, Galeatolutious saevus
_____________________________________________________________________________
Terrestrial Mongeaar
-Greater Mongeaar
-Golden Mongeaar
-Dusky Mongeaar
-Black Mongeaar
Fishing Mongeaar
-Saymin Mongeaar
Arboreal Mongeaar
-Tree Mongeaar
Ice Mongeaar
-Longnose Mongeaar
-Seigford's Mongeaar
Hairless Mongeaar
-Haansen's Mongeaar
-Blind Mongeaar
-Cave Mongeaar
-Ridged Mongeaar
Pygmy Scarmets
-White Legged Scarmet
False Sea Scarmets
*
-Giant Scarmet
-Bismes Sea Scarmet
True Sea Scarmets
-Drifter's Sea Scarmet
(More to come. ... Eventually..
Ufda!
)
* = Pending