Save St. Lucy's
Joined: January 1st, 1970, 12:00 am
A beloved correspondent has forwarded this flyer to me and asked that it be posted, and I do so gladly.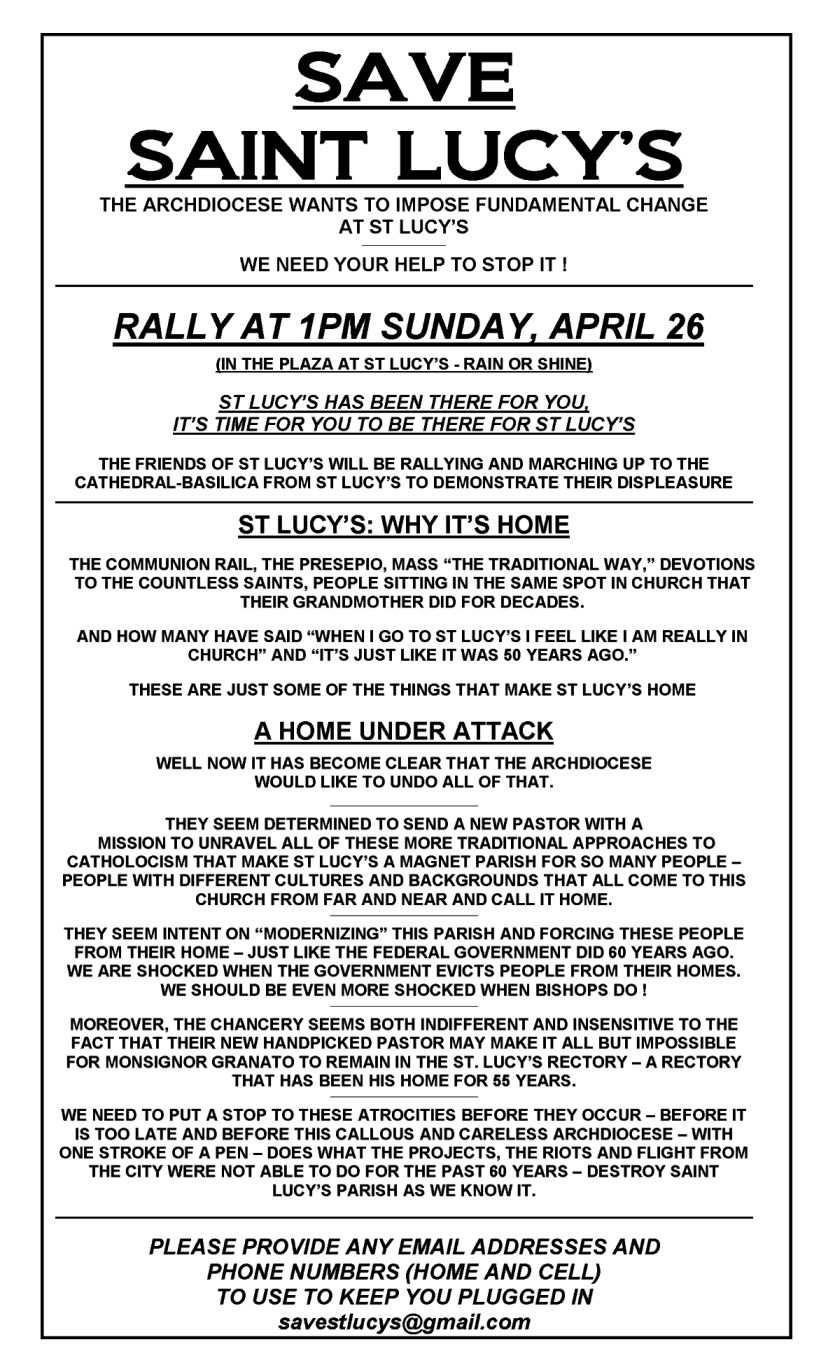 Last edited by
John_C
on April 19th, 2009, 4:15 pm, edited 1 time in total.
---
What exactly does the archdiocese plan to do? This ad seems inflammatory.
---
Joined: January 1st, 1970, 12:00 am
I agree that more information would be helpful.
---
A beloved correspondent has forwarded this flyer to me and asked that it be posted, and I do so gladly.
From what I have heard, the Priest who is retiring, is Italian and the people that are currently in the Parish, would like either a Hispanic or Black. I don't know for sure, but that is what I have been told. There is an Italian Priest who works with the current Monsignor and they would like him to take over after the current Priest leaves. This is just hear say.
---
Parish Announcements

April 13, 2009 - April 19, 2009

A MESSAGE FROM THE PASTOR: Dear Parishioners & Friends, I hoped and prayed that the day would never come when I would have to make this announcement. But it has come, so here goes.

I wrote to the Archbishop in early December and respectfully requested that my assignment at St. Lucy's be renewed for another year. I mentioned that my health was excellent. I even listed the results of my last check-up in October which was excellent.

I have received the Archbishop's response. He was happy that my health was good. But since I'm going to turn 80 in 2009, the Archbishop will renew me only until this coming June. At which time he expects me to retire and resign the parish. I do not know the exact date yet, but I will keep you informed. I have no idea who the new Pastor will be. I implore you not to take any action. This letter had a tone of no if's, and's or but's about it. So please do not try anything.

I know full well that it was you and you alone who bought me three extra years. So we don't want to start a mess now. I am most grateful to you for 54 years of a most fruitful, happy and productive priestly life at St. Lucy's. I would not change it for the world. For some I've been a son, for some I've been a brother or an uncle, for some I've been a father. But for all of you, I hope in spite of my faults, feelings and sins, I have been a worthy parish priest, confidante and friend.

-Fr. Joe

---
In today's paper there is a column regarding the StLucy debate. I don't remember the First Ward at all - only that most of our Italian neighbors on Second St always went to St. Lucy - and the statue of St.Gerard came down our block every year.
http://blog.nj.com/njv_bob_braun/2009/0 ... l#comments
[edited to enable coding]
Last edited by
John_C
on April 20th, 2009, 1:46 pm, edited 1 time in total.
---
Joined: January 1st, 1970, 12:00 am
After reading the article, I get the impression all is well, except for the naming of a new pastor. From the article:

Within days, Genevrino [a protest leader] announced the archdiocese offered Granato assurances he could continue to live in the parish rectory -- the alternative was a home for retired priests -- and that his replacement would respect the church's traditions.

Archbishop John Myers called Granato, Genevrino says, and told him the church's traditions were "devotions he shared and would not want to see changed."

Jim Goodness, an archdiocese spokesman, confirmed Granato would stay as pastor emeritus.

So if the protest continues, it seems to me it's all about getting another Italian pastor. Too bad they wouldn't prefer an Irishman. Remember how much fun we had with Monsignor Carney?
---
As a life long member of the parish i can tell you all it wasnt the fact that they made him retire he's been there since 1955 he came the year i graduted St Lucys he married my sister christened my 3 kids and with the help of fr joe native they saved the church from being ruined like the rest of newark i hope you will all take a sunday go to 11:00 mass hear a mens chior thats been singing there since the 50's most are old guys now me included i recently lost my mom father gee gave a homely that was very personal i dont think theres another priest in newark that is as personal with his people as fr gee is he's been my confessor ,friend ,father ,priest n has been my personal mentor most of my life he's been treated pretty bad by the powers that be GOD BLESS MONG. GRANATO AND GOD BLESS ST.LUCYS
---
Last edited by
John_C
on June 4th, 2009, 4:52 am, edited 1 time in total.
---
Joined: January 1st, 1970, 12:00 am
Sounds like some "parishioners" made the would-be new pastor an offer he couldn't refuse.
---