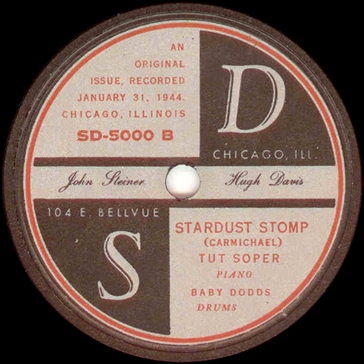 S D Records
 was founded in 1944 by Chicago record collectors John Steiner and Hugh Davis. S D reissued jazz recordings from the 1920s and 1930s and new recordings either by artists from that period or by younger artists who played in a traditional style.  
"Stardust Stomp" was recorded in Chicago on Jan 31, 1944 by Tut Soper on piano and Baby Dodds on drums. Very little is known about Tut Soper. See  
https://www.allmusic.com/artist/tut-soper-mn0001285917
Bixophiles will remember Tut as the pianist in Marty Grosz's "Hooray for Bix" LP.
Here is a youtube video of the recording.  
https://www.youtube.com/watch?v=W7_OXAsB5bg