I'm Coming Virginia – Ethel Waters
A 1926 composition by Donald Heywood with lyrics by Will Marion Cook.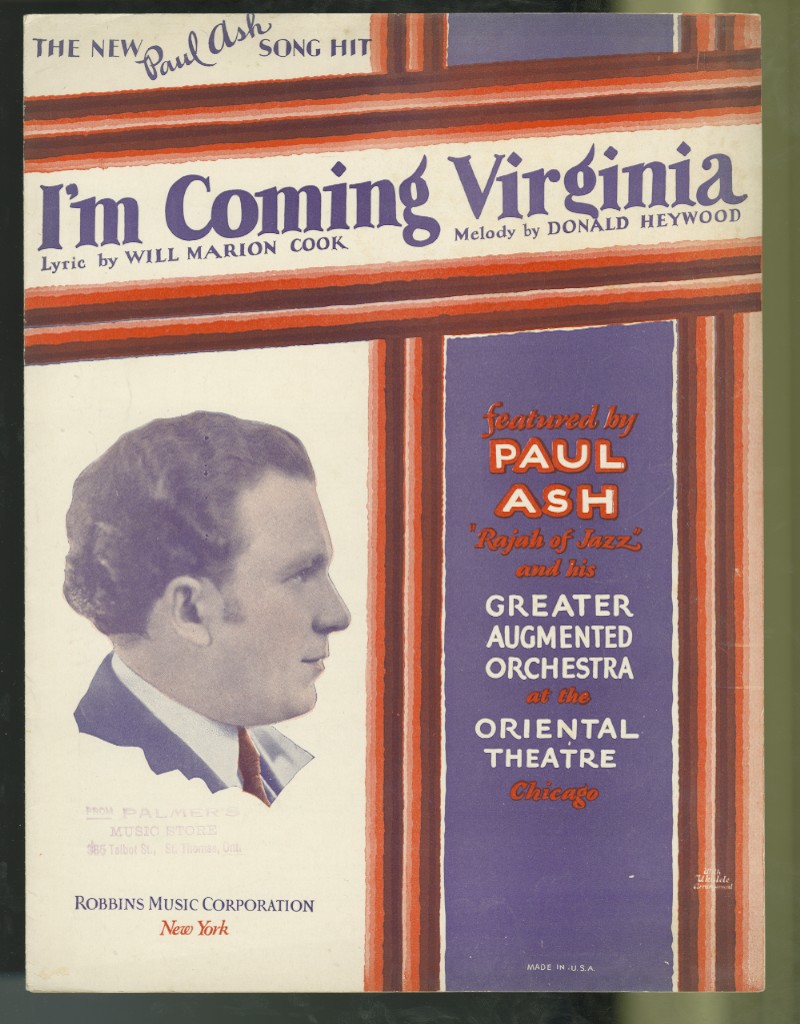 It was first recorded by Ethel Waters.  
Ethel Waters With Will Marion Cook's Singing Orchestra : Ethel Waters (vcl) acc by unknown cnt, vln, cello, J.C. Johnson (p) with choir on (1), Will Marion Cook (dir-1)
            New York, September 18, 1926
142649-2         I'm coming, Virginia (1)          Col 14170-D
142649-3         I'm coming, Virginia (1,*)       Col 14170-D  
Listen  
https://www.youtube.com/watch?v=pNn5f_9i_Js
According to Evans and Evans:
"Nov 22, 1926. Bix and Jimmy McPartland attended the Garrick Theatre and the presentation of "Miss Calico," two-act tabloid musical starring Ethel Waters. Aside from the top song in the show, "I'm Coming Virginia," Ethel sang and danced in other numbers, closing the first half with "A Few Moments with Ethel Waters," and the second half with, "Some Songs That You Have Heard in Your Home" (with Pearl Wright at the piano).alico Ethel Waters.  
There is some information about "Miss Calico" in "His Eye Is On the Sparrow: An Autobiography" by Ethel Waters  
https://www.amazon.com/His-Sparrow-Auto ... 8&qid=&sr=
but I could not find anything by googling Miss Calico Ethel Waters.  
"I'm Coming Virginia" was also one of the songs in the show Africana.  
https://www.ibdb.com/broadway-productio ... 927-444423
After Africana closed on Broadway, the cast went on tour and at one point they played in Chicago. From the Chicagoan, April 7, 1928.
An obituary in the New York Times, Sep 7, 1977  
http://www.latimes.com/local/obituaries ... story.html
with a magnificent photo from "On With the Show."