A band within the Jean Goldkette band assembled in the studio of the OKeh Phonograph Corporation at 25 West 45th St., New York City. Three numbers were recorded, "Trumbology," "Clarinet Marmalade,' and "Singin' the Blues."
The musicians for the first two numbers were Bix Beiderbecke, Frankie Trumbauer, JimmyDorsey, Bill Rank, Paul Mertz, Howdy Quicksell and Chauncey Morehouse. Howdy and Bill were replaced by Eddie Lang and Miff Mole, respectively.
Trumbology is a composition by Frankie Trumbauer, a vehicle for Tram to display his virtuosity. The arrangement is by Paul Mertz.
Some labels Bix and Tram's "Trumbology." [Note 1]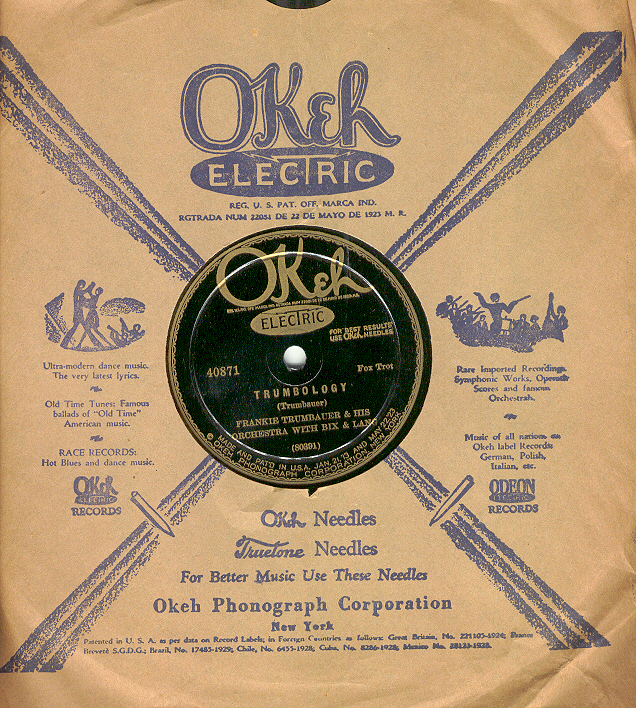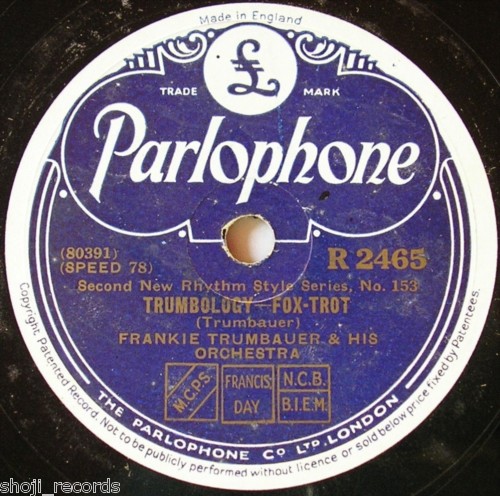 The structure of the recording according to Castelli, Kalaveld and Pusateri, "The Bix Bands.
I theme AABA-18 (16+2)/ II theme ABCA-16 / III theme ABAC-16
intro 4 Bix
I 18 Tram
pass 4 tb
II 16 Tram
II 16 Tram
pass 4 Tram
III 16 Tram
III 14 Tram 2 Bix
III 6 Tram and band, 2 Bix, 8 Tram and band
coda 6 Tram and Band
Listen to the recording:
https://www.youtube.com/watch?v=JELFrAjLNcQ
I just learned that Billy Barton's orchestra recorded "Trumbology."
From
http://bbdb.us/bb.html
Billy Barton Orchesta - 1920s-'30s
b. ca. 1890, USA, d. ca. 1933 USA
Instruments: Leader/reeds, and vocals
Curiously, very little is known about Billy's career. It's curious because he traveled widely and was quite a popular European recording artist. Listening to some of his many recordings, one can occasionally hear him playing some fairly "hot" solos. As far as is known, his first engagements were in China (1920) and Australia. In 1925, he re-located to England, and found a position playing in Bert Ralton's Savoy Havana Band, During 1925-'26, he recorded with another very popular band, Bert Firman's Orchestra. In 1926, He toured South Africa with Ralton and subsequently led the band after Ralton's death in 1927. Returning to England, he again recorded with Bert Firman's orchestra. In 1928, he moved to Germany where he both played as a sideman, and made recordings as a leader (including Trumbology, 1929, Orchestrola Records 2250). Here's the Billy Barton Orchestra playing "Kicking A Hole In The Sky". During 1930-'31, he again led his own studio dance band, as well as working with the bands of Ben Berlin, Julian Fuhs, Harry Jackson, Marek Weber, and Theo Mackeben. During 1932-'33, he toured Germany and Switzerland and -it is thought that -- he probably returned to the USA.
Here is a scan of the record label courtesy of Rainer Lotz.
And here is an mp3 sound file, courtesy of forumite and friend Rob Rothberg. Thanks, Rob!
https://dl.dropboxusercontent.com/u/786 ... Barton.mp3
Played at a slower tempo than the Tram and Bix version. Barton plays almost continuously and is not as good a technician as Frank.
As far as I know, the Bix and Tram recording of "Trumbology" is the only one waxed in the US.
Albert
Note 1. For a discussion of the appearance of Lang's name on the label of Trumbology, see
http://www.network54.com/Forum/27140/message/1414263582