Bernard Derriman, one of the more prominent independent Flash animators,
teamed up with the Suzuki Motor Corporation to create a series of shorts promoting the Suzuki XL7.
The series was created by Shane Star, a creative director at LaBov & Beyond, an agency in Fort Wayne, Indiana.
The series launched in 2006 at
http://themids.com/
, and a total of 5 episodes were created, including this episode titled The Introduction.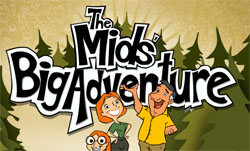 The Mids embark on a family vacation to a mountain retreat, in their all-new Suzuki XL7.
Created by Shane Starr (LaBov & Beyond, www.labov.com)
and Bernard Derriman (www.squetch.com)
for American Suzuki Motor Corporation (www.SuzukiAuto.com).
Animation by Bernard Derriman.
http://www.coldhardflash.com/2007/01/derri...i-campaign.html
http://www.youtube.com/user/shasta337