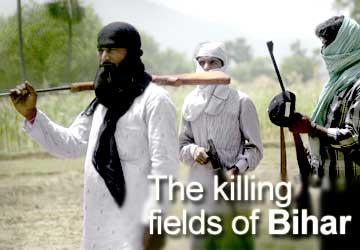 LOL, they look like Afghan mujahideen. They are actually the Ranvir Sena. When they were formed (I think like 1-2 years ago), they were all legal and everything. Their spokesman said that the Ranvir Sena was a multi-partisan group of young men that would help law enforcement defend the villages against criminals, smugglers, Maoists, etc.
I think their defence cloak was blown away though. They shot 58 Dalits in retaliation for 5 upper caste men killed by the Maoists. Now, media terms them as a "private army of upper caste landlords in Bihar".
I dunno who these guys are, but it was high time the high castes took matters into their own hands. Maybe, they can extort well enough to vote out the pseudo-secular lefty govt in Bihar, and install a government that will be really tough on Muslim fundamentalism, Maoist insurgency and Dalit militancy, like the BJP.
BTW, what type of guns are these?