This terrific photo and associated text are brought to you by courtesy of Nick. Thanks, Nick. 
<a href="
http://bixography.com/SavoyOrpheansforB ... n.jpg"></a
>
[color=#000000" size="-1]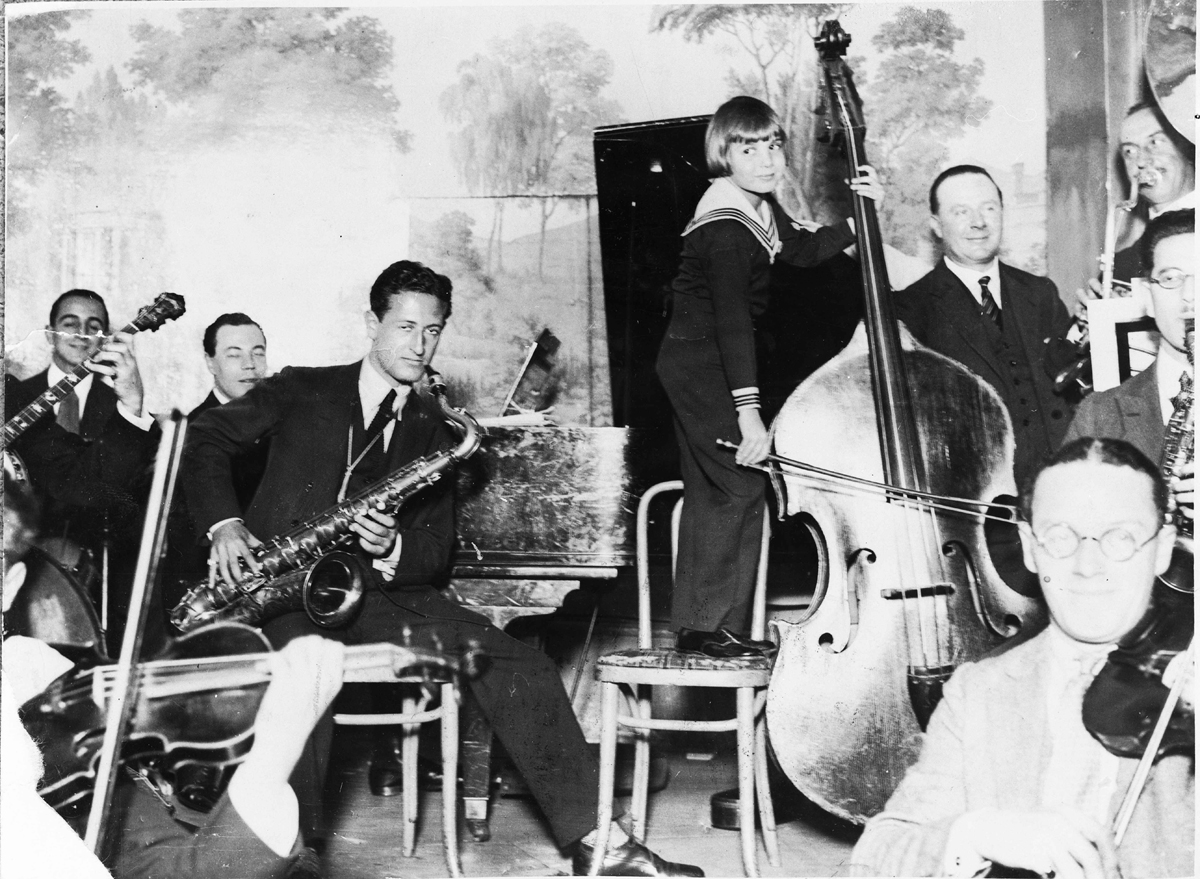 [/color]
[color=#000000" size="-1]Very rare photo of Ray Starita with the Savoy Orpheans. The personnel in the photo is (left to right): Ronnie Gubertini (drums), Billy Thorburn (piano), Ray Starita (tenor sax), Jackie Coogan*, Jim Bellamy (string bass, which Coogan is posing with), Ramon Newton (with glasses!), Fred Underhaye (brass bass), Al Starita (alto sax).
[/color][color=#000000" size="-1]
*Jackie Coogan was of course the child star who famously played the eponymous role in Chaplin's
The Kid
(1921). He was visiting England on a publicity tour, and is seen here playing Jim Bellamy's double-bass. It is difficult to date the photograph exactly, especially because the personnel is at variance with Rust-Forbes' "British Dance Bands on Record" (BDB), but I would guess 1924. Particularly confusing is the fact that, according to BDB, Ronnie Gubertini and Jim Bellamy didn't join the Savoy Orpheans until <span class="yshortcuts">September 1925</span> but by that date both Starita brothers were out of the band, yet here they all are together! There are two violinists shown here; the one just out of view could be Jean Lensen, which would make mid-1924 the most likely date for the photograph, as Lensen was out of the band by <span class="yshortcuts">October 1924</span> according to BDB. [/color]
<div>
[color=#000000" size="-1]If one treats the Savoy Orpheans and the Savoy Havana Band personnel as a "pool" of musicians then the situation becomes less confusing. Certainly on record there are examples of the Starita brothers playing on Savoy Havana Band recordings as early as <span class="yshortcuts">November 1923</span>. In fact, the Havana's trumpet player Jimmy Wornell told researcher Steve Walker that the Savoy bands often swapped chairs for recording sessions, depending on who was available on a particular day.[/color]
</div>
[color=#000000" size="-1]This photo and Nick's comments also appear on John Wright's excellent website dedicated to British Dance Bands. [/color]
[color=#000000" size="-1]Albert[/color]
<img alt="clear.gif" src="
http://www.jabw.demon.co.uk/clear.gif
">