Mike kindly sent a scan of the record label for "Charleston Baby O' Mine." His copy of the recording is on English Columbia and is ascribed to the Denza Dance band.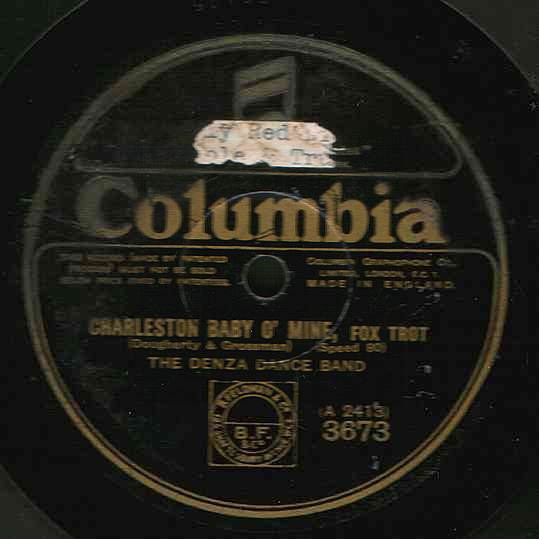 The Denza Dance Band was a pseudonym "chosen in 1925 by Herbert C. Ridout, publicity manager of the Columbia Graphophone Company (London), to maks the identities of American dance bands whose first electric recordings it was desired to issue without public announcement of the new recording technique." Brian Rust in his Jazz Discography. Among the bands hidden behind the "Denza Dance Band" name, we have The California Ramblers, Ben Selvin, Harry Reser, Ross Gorman,  Fred Rich, etc.
Mike also sent an mp3 file.
<embed src="http://bixography.com/CharlestonBabyoMineGeorgians.mp3" autostart="true" width="144" height="72" style="background-color:inherit">
Very nice tune and recording. Prominent banjo by Roy Smeck, good solos by Charles Butterfield (tb), Red Nichols (c), Frank Kilduff (bar sax) and Dick Johnson (as).
Mick, thanks very much for your generosity. I deeply appreciate your contributions to the Bixography Forum.
Albert