September and October 1927 were months of crucial changes in Bix's life.
- Bix recorded his own composition "In A Mist."
- Bix recorded "Clementine" with Goldkette's orchestra.
- The Jean Goldkette orchestra folded.
- Bix joined the short lived Rollini's New Yorkers and made several important recordings with Frank Trumbauer's orchestra (basically the New Yorkers).
- Bix waxed his first recordings as Bix Beiderbecke and His Gang.
- Bix joined the Paul Whiteman organization.
Two of Bix's recordings during this period were issued as follows:
Benny Meroff And His Orchestra : Bix Beiderbecke (cnt) unknown (tp) Bill Rank (tb) Frankie Trumbauer (c-mel) Bobby Davis (as) Don Murray (cl,ts) Joe Venuti (vln) Adrian Rollini (bassax) Frank Signorelli (p) unknown (g) Chauncey Morehouse (d) Irving Kaufman (vcl)
New York, September 30, 1927
W-81499-A Just an hour of love (ik vcl)
OKeh 40912
W-81500-A I'm wonderin' who (ik vcl)
OKeh 40912
The two numbers were from the Broadway show "Burlesque."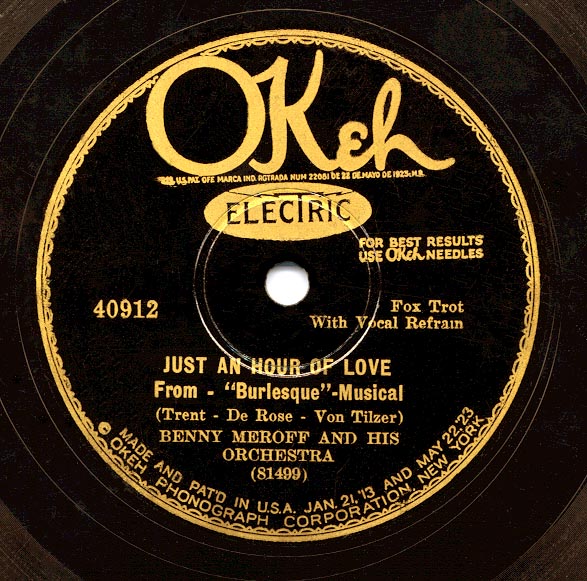 https://guideimg.alibaba.com/images/sho ... 41792.jpeg
From IBDB
Burlesque
Plymouth Theatre, (9/01/1927 - 7/14/1928)
Opening Date: Sep 01, 1927
Closing Date: Jul 14, 1928 Total Performances: 372
Category: Play, Comedy, Original, Broadway
Description: A play in three acts
Setting: A Basement Dressing-room in a Mid-West Burlesque Theatre, the Living-room of a New York Hotel Suite, and the Stage of the Star Theatre, Paterson, N.J.
Produced by Arthur Hopkins
Written by George Manker Watters and Arthur Hopkins; Featuring songs by Albert Von Tilzer, Peter De Rose and Joe Trent; Musical Director: Paul Van Loan; Chorus Dances arranged by Mary Jennings
Directed by Arthur Hopkins
Two of the actors in the musical were Oscar Levant and Barbara Stanwick.
"Burlesque" was revived on Broadway in 1946, with Bert Lahr in the leading role.
"Burlesque" was adapted to the big screen three times:
1929 The Dance of Life. Available in full
http://www.bing.com/videos/search?q=bur ... &FORM=VIRE
1937 "Swing High, Swing Low" (starring Fred MacMurray and Carole Lombard).
1948 "When My Baby Smiles at Me" (starring Betty Grable and Dan Dailey)
The two songs "Just an Hour of Love" and "I'm Wondering Who"did not make it to the Broadway revival nor to the screen versions.
Lots of information about "Just An Hour of Love" in
http://www.network54.com/Forum/27140/message/1313952265
Here are music files of the two songs as recorded by Bix.
"Just an Hour of Love"
https://www.youtube.com/watch?v=RzVhCAl2PrY
Saved by the chase chorus between Bix and Tram.
"I'm Wondering Who"
https://www.youtube.com/watch?v=67CWc78qsak
Albert