...."Where the Dark and the Light Folks Meet: Race and the Mythology, Politics and Business of Jazz."
I have been reading Randy's book. Excellent, well-argued, and profusely documented treatment of race in jazz. Randy is level-headed and has common sense. He is not pushing an agenda. His writing is measured and rational.
Among many statements that really caught my attention, here is the first one I want to transcribe.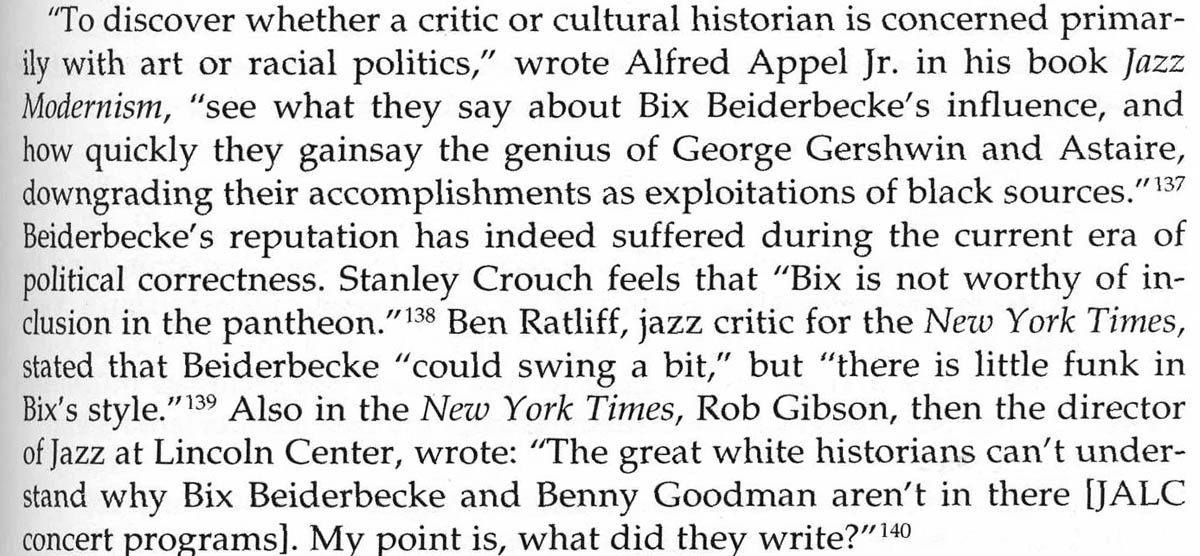 I went to the New York Times archives and read the rest of Gibson's quote. Here it is,
"Bix Beiderbecke was great, but wasn't greater than Louis Armstrong. Benny Goodman was a great clarinetist, and if he was alive he would be playing clarinet in our orchestra. The fact is he didn't write any music. One of his most significant contributions was to get black and white people on the same stage. That's a great achievement. I'm glad he did it. But we are talking about music here; we are talking about art. It goes way beyond what Benny Goodman did."
I am almost speechless. 
First the errors of fact. "What did they (Bix and Benny) write?" Bix wrote Davenport Blues and four piano compositions. ASCAP lists 120 compositions by Benny Goodman.
When Benny Goodman got black and white musicians on the same stage, he was not making a political comment, he was not pushing an agenda for racial equality. He simply chose the best musicians available at the time to make music, regardless of the color of their skins.
It is pathetic to see scholars (not only in the arts, but also in the sciences) color their views and their research results about art or science by political considerations and agendas. Analyses of art and science endeavors must be objective, based on the intrinsic qualities of the art or science itself, not on extraneous considerations. It is so simple, but, unfortunately, rarely done.
Albert