From Clint Eastwood: An Interview, Ric Gentry, Clint Eastwood, Film Quarterly, Vol. 42, No. 3 (Spring, 1989), pp. 12-23.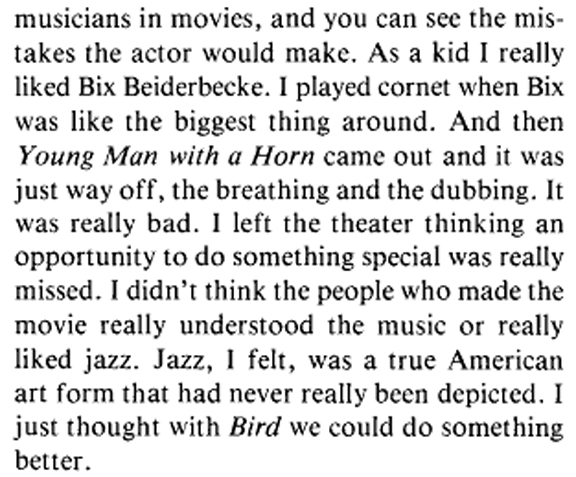 Another missed opportunity was "Bix: An Interpretation of A Legend." Excellent music, sets, costumes; but lousy script and historically inaccurate.
From
http://www.clinteastwood.net/welcome/alt/
"Eastwood in His Own Words."
One of the biggest things when I was a kidI always liked jazz. A wide spectrum of jazz. Back in the forties and fifties, I listened to Brubeck and Mulligan. And I loved Ellington and Basie. I'd get books on everybody: Bix Beiderbecke, King Oliver, Buddy Bolden. I tried to enroll in Seattle University, where they had a good music program. I got my draft notice before I got in there, though, and ended up at Fort Ord [California].
Albert
What is your favorite film directed by Clint? I will surprise you. Of non-westerns, I have a special spot for "A Perfect World." Of the westerns, I like very much "The Outlaw Josey Wales" and "Unforgiven." "Pale Rider" is OK, but it borrows too much from "Shane," my all-time favorite western.