Bix turned up in Chicago on March 23, 1925, deposited his union card with Chicago Local # 10, and soon after was hired by Charley Straight at the Rendez-vous Cafe located in the street front space of the Diversey Arms Hotel. The circumstances under which Bix was hired are interesting. According to Eddie Condon via John Steiner, "Charley Straight had heard Bix on the Wolverine records and wanted Bix in his band. Charley appealed to the local board for Bix to come without the usual transfer penalties. Charley told them, 'Get me a man as good as Bix and I won't need Bix.' The board allowed Bix in without penalty." At first, Bix played with the "relief band," the band that played from 1:00 am, after the regular band ended its engagement, until 5:00 am. The regular Charley Straight band was a 10-piece band; the relief band consisted of six men, cornet, trombone, reeds, brass bass, piano, and drums. The salary that Bix got as a member of the "relief band" was supplemented by the members of the main band who contributed $10 apiece a week just for the satisfaction of having Bix play with the main band. Bix stayed with Charley Straight for about three months. He left in early July 1925 to join one of the Goldkette outfits playing at the Lakeside Casino in Walled Lake, Michigan. While Bix was with the Charley Straight orchestra, Red Nichols visited him. Red Nichols told Philip Evans on July 4, 1960, "I went to Chicago to see Hannah Williams, who with her sister Dorothea, was singing with the Charley Straight Orchestra. At the time, I was sweet on Hannah. She had been away from New York for some time and I wanted to find out if we still had anything in common? I stayed with Bix at his hotel. I listened to him play with the Straight band, and he escorted me to a few places around town."
The Rendez-vous Cafe was located where you see the Jamba Juice sign.
https://www.flickr.com/photos/chicagocr ... 4377615520
Bix lived in one of the hotel rooms. Bix used Rendez-vous Cafe stationary to write to Cornelia Marshall.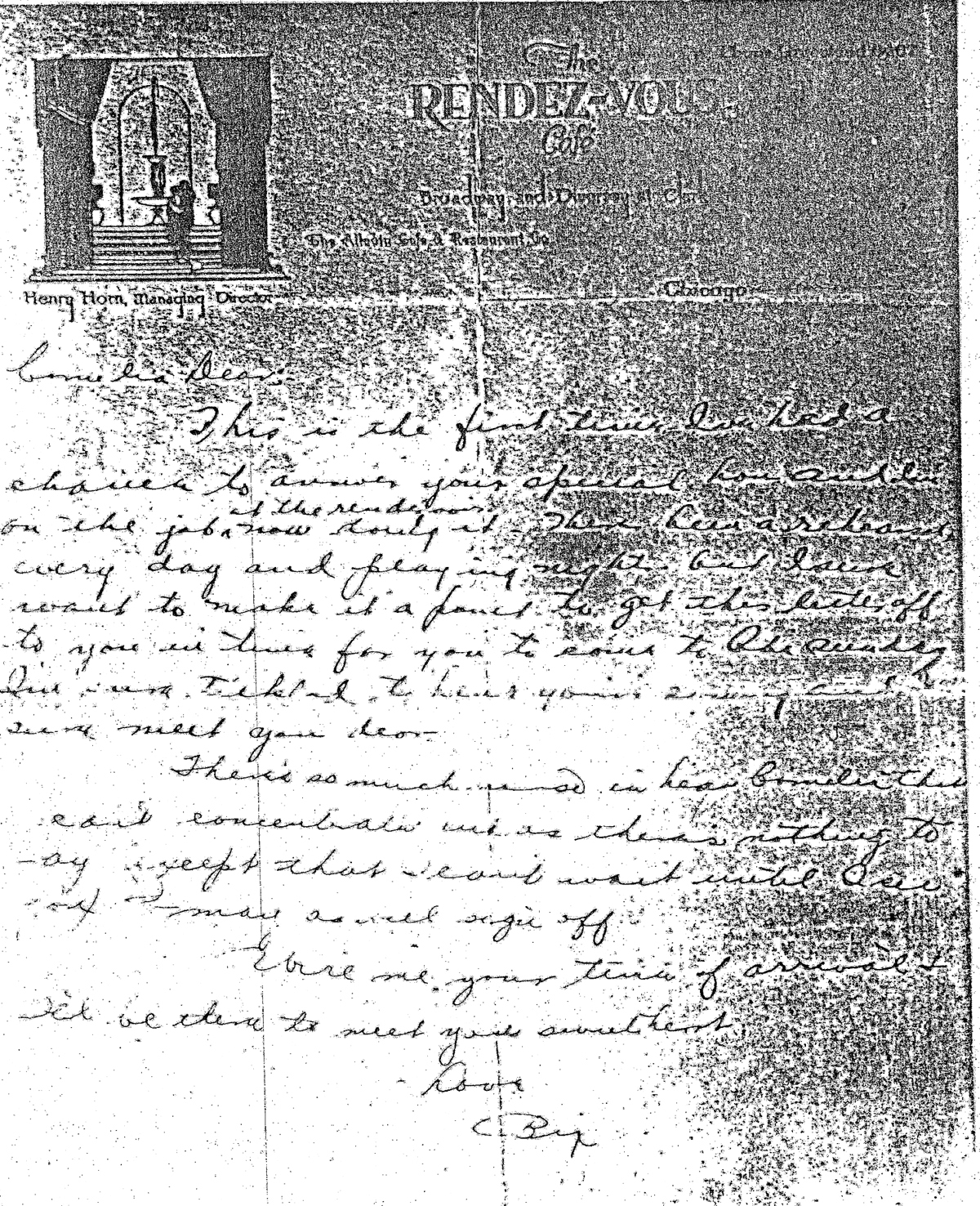 Bix used Diversey Arms Hotel stationary to write to Charlie Horvath. See page 186 of Evans and Evans.
Here are images of the hotel when it was still named Diversey Arms Hotel.
https://www.rentcafe.com/blog/wp-conten ... hicago.jpg
Gerri informs me that the hotel, currently a Days Inn, "In late spring, the nearly 100-year-old building at 644 W. Diversey Parkway will become Hotel Versey, a "lifestyle" hotel." Bix is mentioned in the article. "It was the home to former jazz musician Bix Beiderbecke in 1925."
http://www.orlandosentinel.com/travel/c ... story.html
Albert