Here is a list of the first five recordings of <em>In A Mist.</em>
Bix Beiderbecke. Piano solo. Recorded in New York for OKeh Records on September 8, 1927.
Red Norvo. Xylophon solo, 1933. Reissued in CD "Dance of the Octopus", HEP (IRE) 1044.
Frankie Trumbauer. Arranged for orchestra (includes Charlie and Jack Teagarden, Roy Bargy, and Dick McDonough, among others). Recorded in 1934 and released as Brunswick 6997.
Lilian Crawford. Piano solo. Recorded in 1934 in Richmond, Indiana and released as Champion 16817.
Manuel Salsamendi. Piano solo. Recorded in 1935 on Argentinian Odeon.
The label of Salsamendi's recording thanks to the generosity of Rob.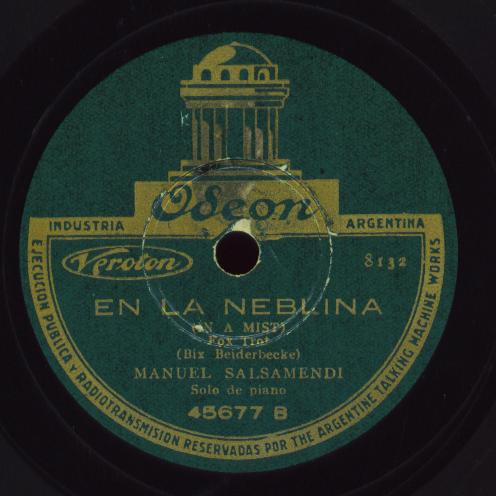 Evidently, Salsamendi's recording was very early in the history of <em>In A Mist</em> waxings. See the complete (I believe) list in
http://ms.cc.sunysb.edu/~alhaim/recordi ... sofinAmist
Salsamendi was an  Uruguayan pianist, organist and educator, as well as an MD. [He taught piano to my nephew Leo Masliah]. I have been alerted by Mario that Salsamendi recorded <em>Flashes</em> in Nov-Dec 1952. This was one of several tracks on an LP (JRG 102) produced by the SODRE (Originally Servicio Oficial de Difusion Radio Electrica, now Servicio Oficial de Difusion Radiotelevision y Espectaculos). Here are the record labels of both sides of the record.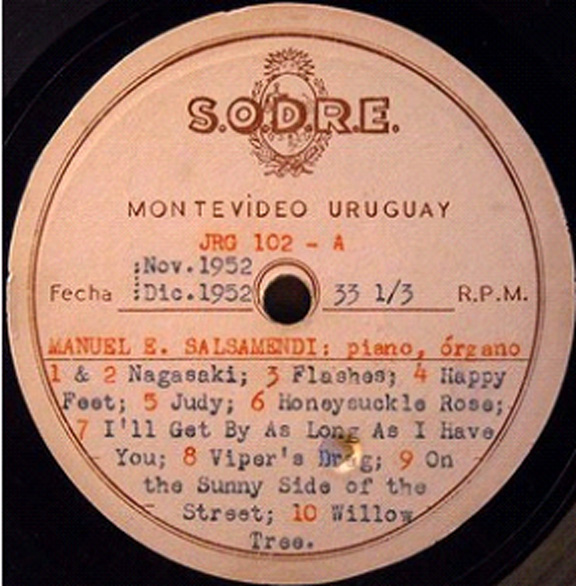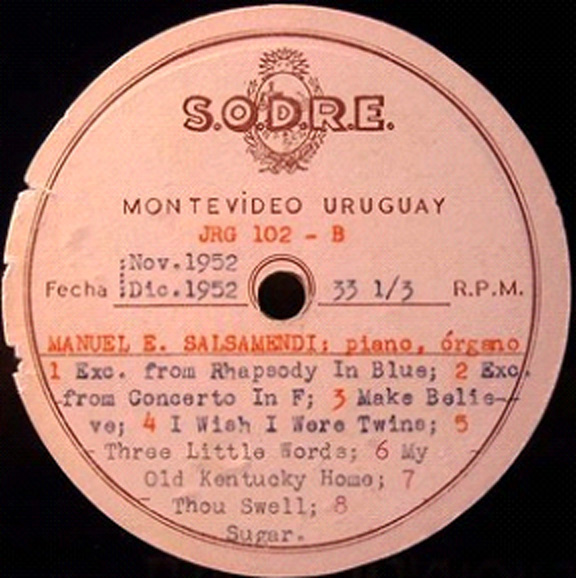 It will be seen that in addition to Flashes, there are three other tunes that Bix recorded, <em>Thou Swell, Sugar and Make Believe</em> (in Selections from Old Man River).
The record was just sold on ebay for $100.
Mario wrote a highly informative article about Salsamendi in his blog. (It is written in Spanish).
http://riverplatejazzfiles.blogspot.com ... stado.html
Albert