A few days ago, I posted in the Red Nichols facebook page the following.
<em>From the Presto-Times, Jul 28, 1928: "Preparatory to leaving for Europe recently Edward B. Marks, of the music firm that bears his name, signed a ten-year agreement with Red Nichols whereby the firm secures the exclusive rights to all of Mr. Nichols' orchestral arrangements during that time."
Here are seven Nichols' arrrangements advertised in 1928 by the Edwards B. Music Co., 225 W. 46th St, New York NY:
Seven Great RED NICHOLS Recording Orchestrations
IDA
MY GAL SAL
ORIGINAL DIXIELAND ONE-STEP
</em><em>BALLIN' THE JACK
ROLL DEM ROLY BOLY EYES
</em><em>JAZZ ME BLUES
SHiMMY-SHA-WABBLE
Jazz Me Blues caught my attention. Neither Red nor Miff recorded this tune. The other tune they did not record is Roll Dem Boly Eyes.</em>
Steve H posted this article in Metronome, Aug 1928.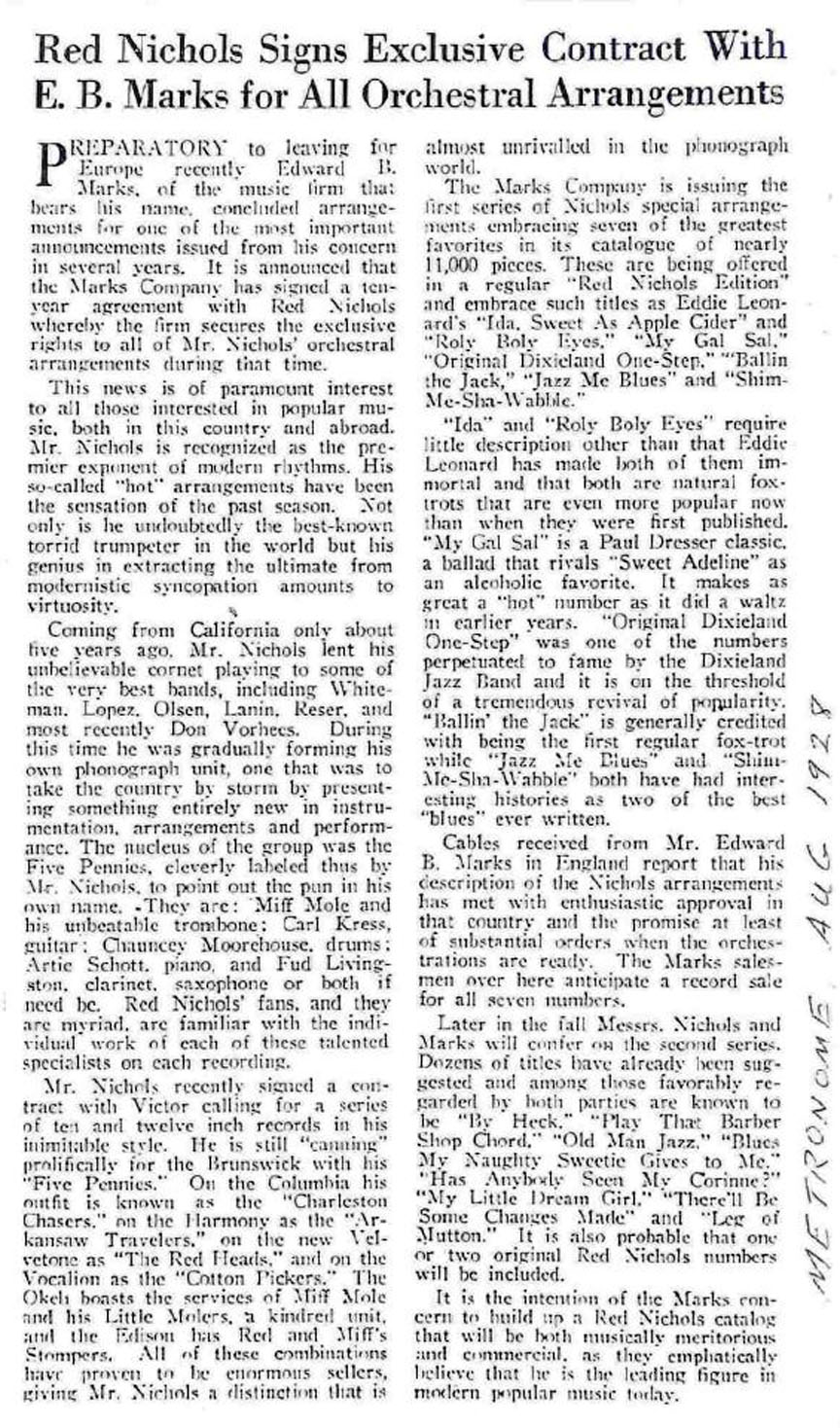 I expressed my surprise about the mention of Chauncey Morehouse rather than Vic Berton in the list of musicians: Chauncey only recorded a few sides side with Red in 1927 and 1928, whereas Vic recorded dozens and dozens of sides between March 1926 and May 1929.
A new (at least to me) title for Red Nichols: <em>"Orchestra King." See</em>
Albert